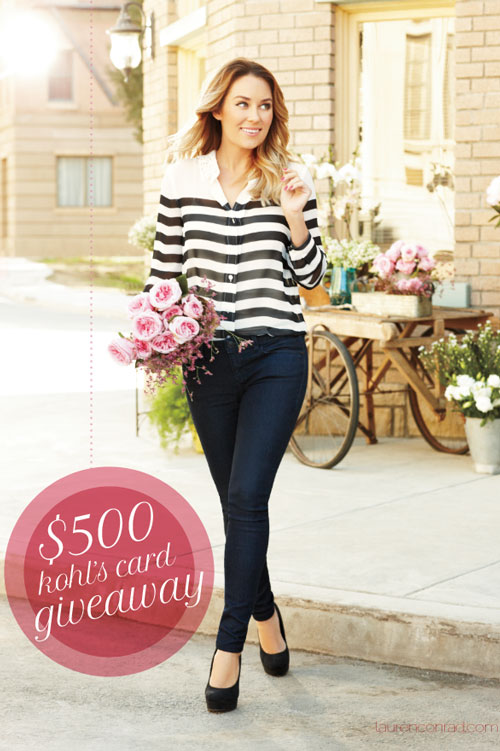 UPDATE: WE HAVE OUR WINNER! Congrats to LaurenConrad.Com member Tina Chambers.  We hope you enjoy a fun shopping spree on us for your birthday! Xo
Spring has sprung so we thought now was the perfect time to do a giveaway to give you guys the chance to overhaul your winter wardrobe and refresh it for the springtime and say thank you for helping Lauren reach 3 million followers on Twitter! You guys are the best.
Our friends over at Kohl's sent us a $500 gift card to give away to one lucky LauernConrad.com member! If you we could win this giveaway, we would definitely stock up on all of our favorite items from Lauern's LC Lauren Conrad spring collection… (The spring shoes are to-die-for cute!)
Do you want to win the $500 Kohl's gift card?
Here's how to enter:
Follow. If you haven't already, follow Team LC on Twitter at @LaurenConradcom. If you don't have Twitter, follow Lauren on Pinterest instead by clicking here.
Comment. Leave one comment below with your Twitter handle (or the link to your Pinterest profile) and be sure to tell us what your favorite spring trend is! (Please note that you must be a registered LauernConrad.com member to enter. If you're not already a member, join now—it's takes less than a minute. Sign up here!)
Wait. We will announce the lucky winner on Wednesday, March 20th in honor of the first day of spring!
Good luck!
XO Team LC
Photo: Kohl's
Rules & Conditions
•You must be a registered LaurenConrad.com member to enter. Sign up by clicking here.
•This contest is open to US residents only. Sorry international fans!
•Winners will be contacted via private message to their LaurenConrad.com inbox and by email. If our team does not hear back within 24 hours, a new winner will be selected in your place.
•Limit one comment per entry. Multiple comment entries will not be considered.
•This giveaway ends at midnight PST on March 19th 2013.
•This is not a sponsored giveaway in any way.