Nothing gets my color wheel turning quite like a fresh pop of mint green. Not only is this color symbolic of spring, it just begs to be worn on Easter Sunday. When I spotted this LaurenConrad.com member's minty dress, I was immediately inspired to sport some seafoam myself this weekend…
Meg, your pretty pastel outfit puts quite a fresh perspective on spring fashion. Congrats, you're our newest Chic of the Week!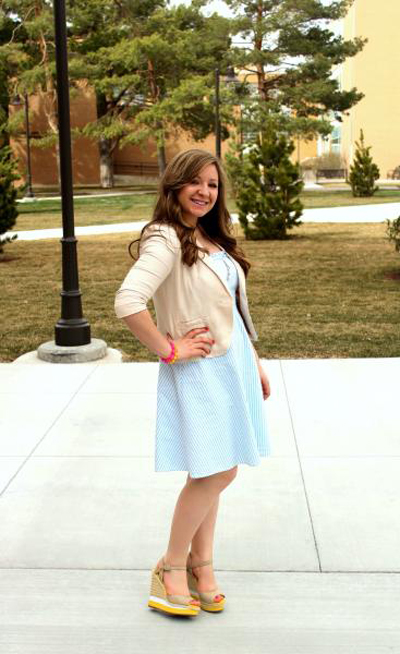 It looks to me like our newest Chic is a mastermind at creating a polished look. She layered a light tan jacket over her pinstripe mint dress, added some sweet jewelry, and finished everything off with a springy pair of wedges. Meg, I hope you don't mind if I copy this entire outfit for Sunday brunch this weekend 🙂
Congrats to Meg, our newest Chic of the Week!
Do you have what it takes to be our next Chic?
Upload your spring outfit photos to the gallery and you might see yourself right here on LaurenConrad.com
xx
Allison
Team LC

Photo: Meg