While a basic pair of blue jeans is always a classic style staple, there is something to be said about statement-making printed pants. Whether it's striped, spotted, ikat, or Aztec, it's rare that I come across a pattern I don't love. After this LaurenConrad.com member rocked a pair of playful pants that I truly adore, featuring her as our newest Chic was a piece of cake. AJ P., I couldn't resist spotlighting your fabulous floral. Congrats, you are our newest Chic of the Week!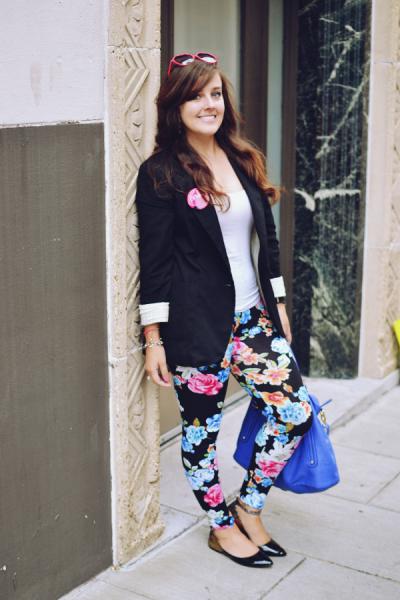 I love how AJ had fun with this punchy outfit. She let her flowery pants do the talking, and wore them with a basic white top, a black blazer, and black patent flats. Her bright cobalt-blue purse really makes the cool hues in her pants pop. And how could I forget her darling pink flower brooch pinned to her lap? This outfit is a great way to make a style statement while stepping into spring.
So, congratulations on being this week's Chic of the Week, AJ…you earned it!
What's your favorite patterned piece in your closet?
Tell me about it and share your photos by uploading them to your LaurenConrad.com profile.
And if you're looking for a bit of outfit inspiration this weekend, try one of one of these style tips and ideas!
xx
Allison
Team LC