When it comes to wedding worthy manicures, I prefer looks that are clean and simple, with a playful twist. Here are my 6 favorite simple and sweet manicures for spring and summer brides: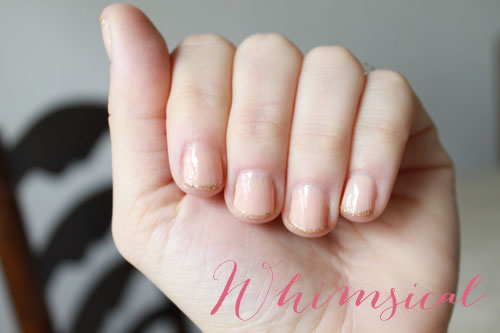 Whimsical: For a simple spin on your standard French manicure, try swapping out the white for your favorite glittery accent color. To get the above look, I glossed on two coats of Face Stockholm nail polish in Au Natural (which happens to be one of my absolute favorite nude polishes). Then I carefully traced the tip of my nail with Butter London's glittery polish called West Ender Wonderland (another favorite). To seal the deal, I finished it off with a coat of Deborah Lippmann topcoat, On A Clear Day.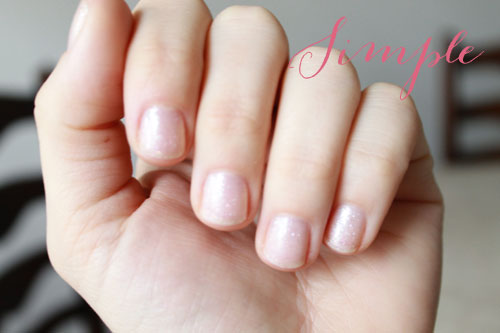 Simple: If you prefer the simpler things in life, I suggest swiping on a translucent shimmery shade such as Essie's Silver Bullions for a barely-there sparkle. In the photo above, I used a basecoat followed by one coat of polish and a topcoat. This see-through shimmer is like a new take on neutral nails, but with an unexpected dash of surprise—glitter!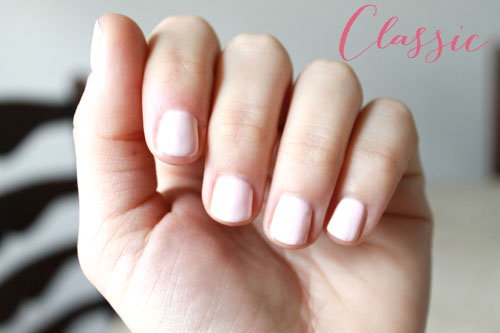 Classic: When I think of a timeless bridal manicure, soft shades of blush pinks come to mind (as well as classic French manicures—that's a given). My favorite muted pinks include Essie's Topless & Barefoot, Scotch Naturals in Neat, as well as OPI Sweetheart. For the above photo I gave this classic manicure a modern spin by finishing it off with a matte topcoat.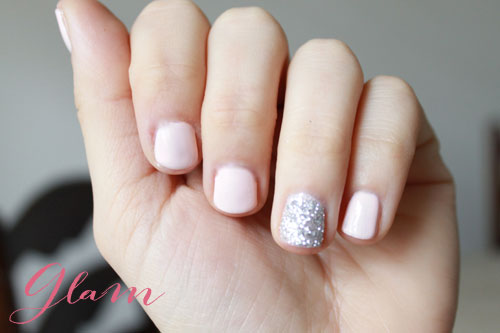 Glam: Aside from nail art, these past two years have been all about the "accent nail." I love this look when paired with a sparkly ring. It adds a lovely dose of understated glam that's not completely over the top. For the above look, I used Essie's Fiji and some craft-grade glitter. To get the super-sparkly accent nail, I applied a thick basecoat, and sprinkled the glitter over top while the base was still wet. Once it was completely dry, I finished it off when a strong topcoat. Voila! Instant glitz in 5-minutes or less.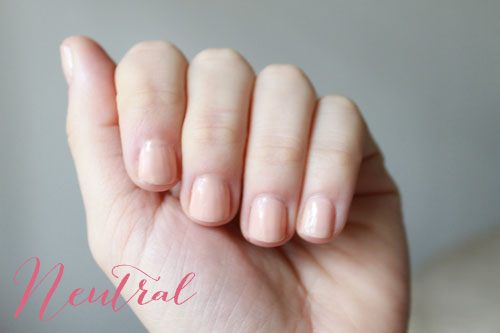 Neutral: Sometimes the last thing you want to outshine your new sparkler on your big day is a shimmery manicure. For the above look I used Chanel's Limited Edition Emprise (it's an insanely perfect nude nail polish). I have a special place in my heart for this shade because I have very small, stubby fingers and the neutral hue on my nails creates the illusion of elongated hands (the perfect solution for a short n' stubs like me).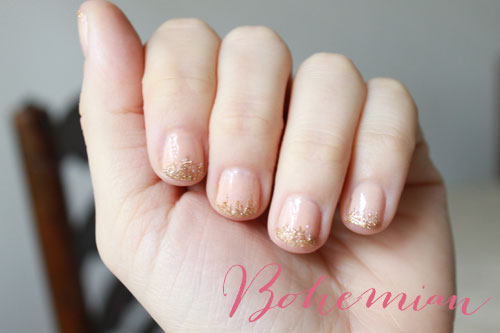 Bohemian: If you're into the boho-chic look, then this is the manicure for you. It's really easy to do, too! Simply follow the steps listed for the "Whimsical" manicure listed earlier in this post and then go back with your glitter polish brush and lightly drag the product upward, moving away from the tip of your nail toward the cuticle, lifting as you go. Be sure to use a light hand when doing this. However, thankfully if you mess up glitter polish is pretty forgiving—just use a cotton swab dipped in acetone for damage control.
Which manicure is your favorite?
Until next time…
Xx Alex
Team LC