Today's post is from our partners over at 100 Layer Cake, which happens to be one of our absolute favorite wedding blogs! This first post is all about sparkly inspirations…enjoy! XO Team LC
Hi everyone! We're so excited Lauren is letting us pop in to share some of our favorite wedding ideas with y'all. First off, congrats to Alex on her engagement. We've been following along with her Wedding Bells series and can't wait to see what she's got planned for her own wedding. We're sure it's going to be fab! Since we see and publish so many pretty weddings on a daily basis, we thought it'd be fun to share a few weddings that beautifully showcase one of our favorite wedding trends: gold & sparkly. We're seeing it pop up a lot more this year and wanted to share a few ways you can incorporate this trend into your wedding decor. Take a peek!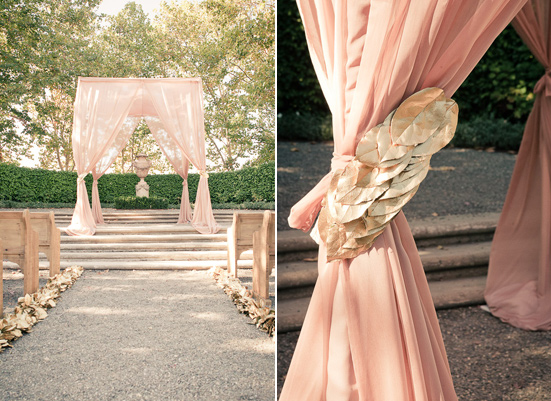 Something as simple as spray painting a ton of leaves gold and gluing them together to frame the aisle as you walk down makes such an impact.
Napa Valley Wedding / Photo by Gary Ashley of The Wedding Artists Collective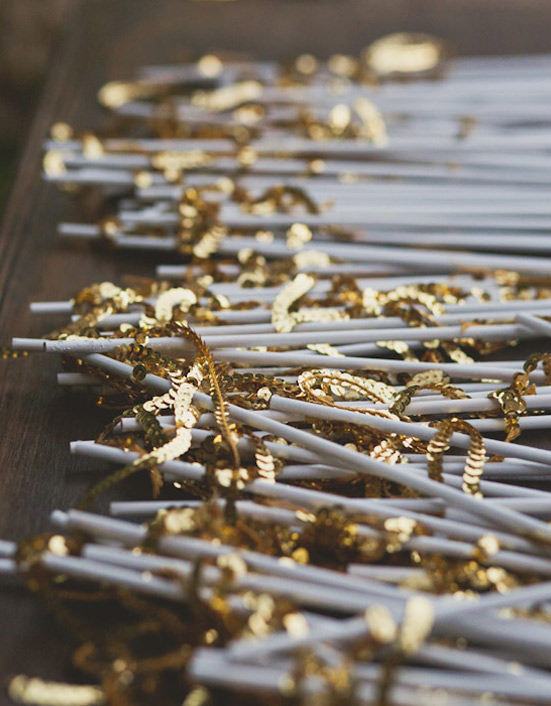 While it is a tradition after a couple says their 'I Do's' to throw 'confetti/rice' as the couple walks back down the aisle as newlyweds. We say, Forego the rice and go for something that your guests will have a blast throwing or waving. These were gold sequin wands that guests waved immediately following the ceremony. Cute, right? And you don't have to worry about a mess on the ground.
Smog Shoppe wedding / Photo by EP Love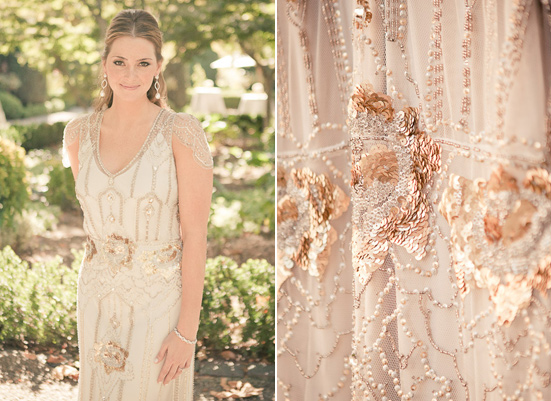 Sparkly wedding dresses? Yes, please! This Jenny Packham dress is amazing, and uber popular, but it's one we never tire of seeing. It's so delicate, full of sequins, and has a classic feel to it that will forever be lovely.
Photo by Gary Ashley of The Wedding Artists Collective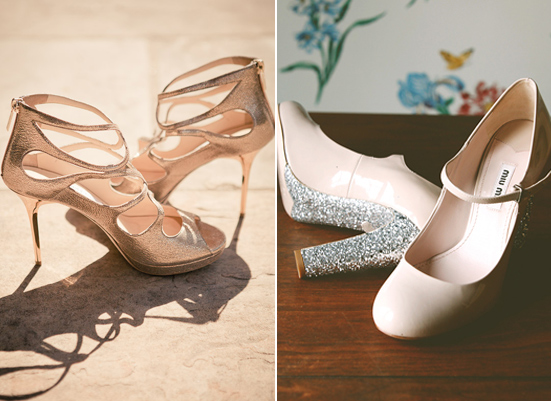 Ok, shoes. We love us a good pair of heels with some sparkle. Even if your shoes aren't seen during much of the day because your wedding dress covers it, doesn't mean you shouldn't have a little surprise bling under there. It's always makes for a fun photos, and when you're out on the dance floor and they peep out, guests will love it!
Jimmy Choo shoes Photo by Gary Ashley of The Wedding Artists Collective / Miu Miu shoes Photo by Michelle Heimerman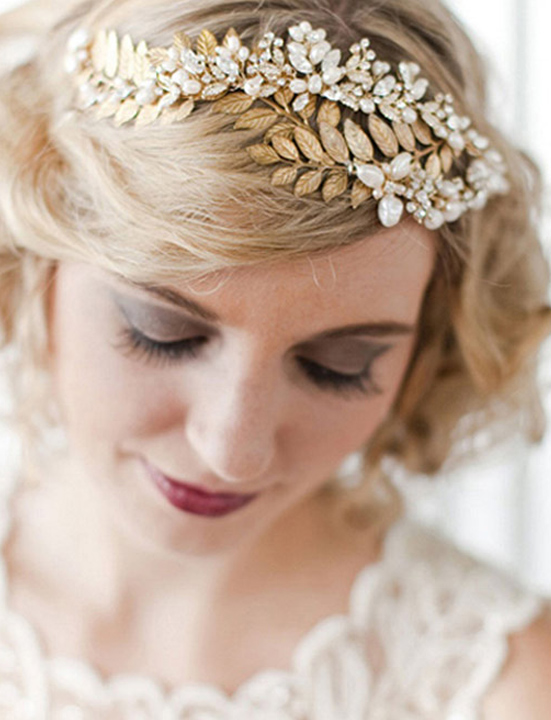 We don't see many brides wearing veils these days, but instead wearing a gorgeous hairpiece that's either been passed down, was once a necklace, or is just a special piece bought specifically for their wedding. This Grecian Headpiece by Portobello Jewelry is the perfect compliment to a vintage style wedding or Downton Abby themed wedding.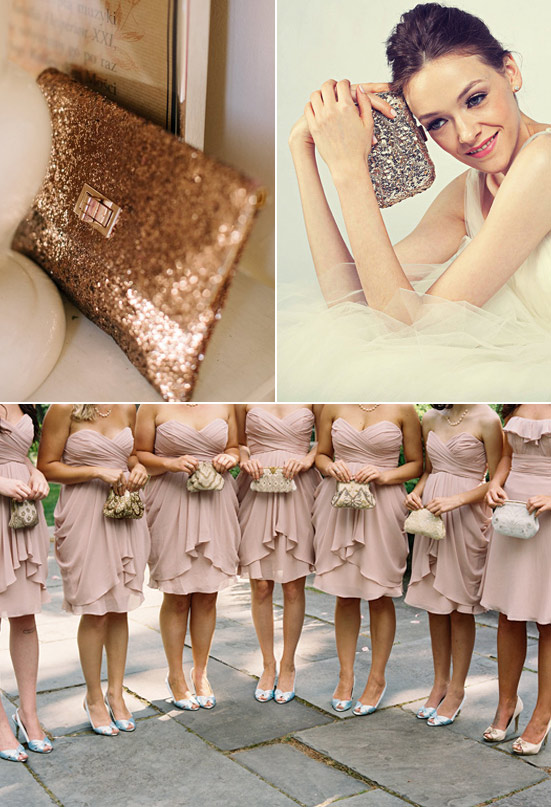 Even though you won't be carrying it around during the day, you need a clutch to put your makeup bits into for all those little touch ups throughout the day. It's another way to add a little sparkle to your ensemble. And did we mention clutches are the new bouquet? There have been a handful of weddings like the one above where the bridesmaids carry an oh-so pretty clutch down the aisle. We love it! And honestly, your bridesmaids will love it too.
Clutch Photo by Haley Sheffield / Ila Handbags / Vintage handbags photo by Charlotte Jenks Lewis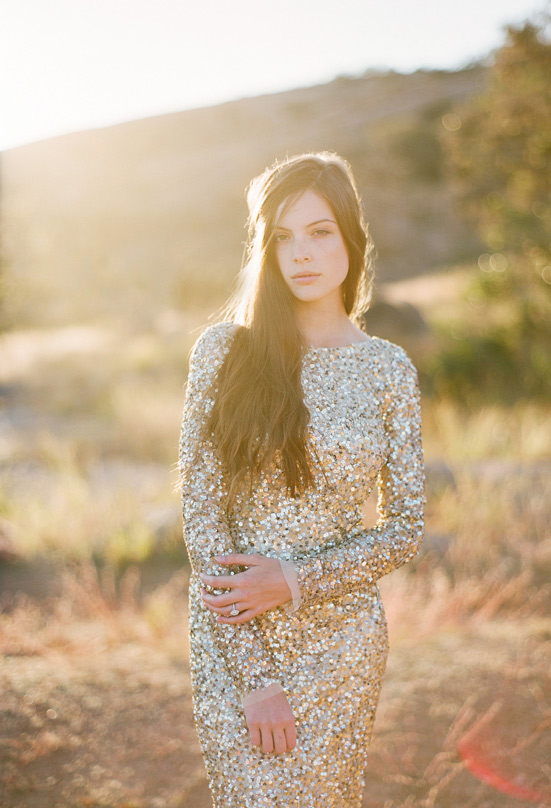 Should you choose to change into a different dress for your cocktail hour or reception, have fun with it. You're going to want to be in something that you can move around easily in and that looks stunning on the dance floor. Sequin is always, always our go-to!
Dress by Aidan Mattox  Photo by Taylor Lord Photography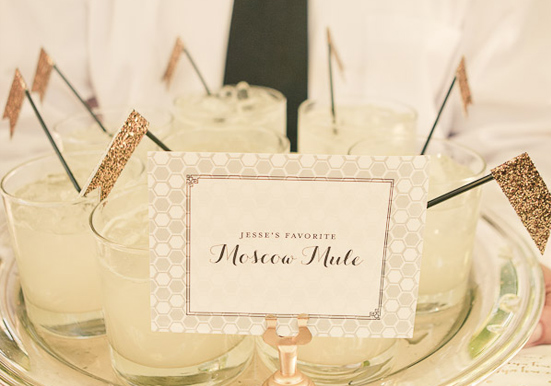 And speaking of cocktail hour… if time permits you to add another detail to your wedding, go with a fun drink stirrer. Guests are basically walking around your wedding for the majority of the day or night with a tasty cocktail in their hand, so add a little glitter to it, no?
Photo by Gary Ashley of The Wedding Artists Collective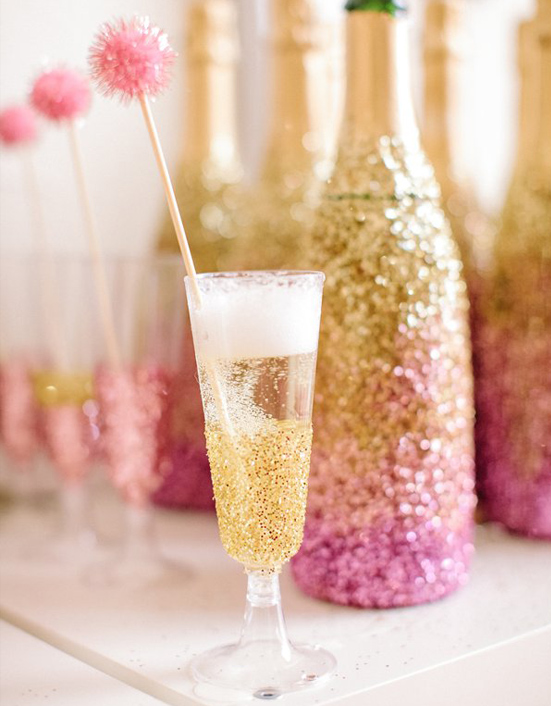 Oh, glitter. Really, you can put glitter on anything and it instantly gives your decor a little boost. These little champagne glasses, can get a whole new pretty little makeover by just adding glitter. You can use modge podge or wrap the glass with double-sided tape and roll it around in glitter. Easy peasy!
Photo by Haley Sheffield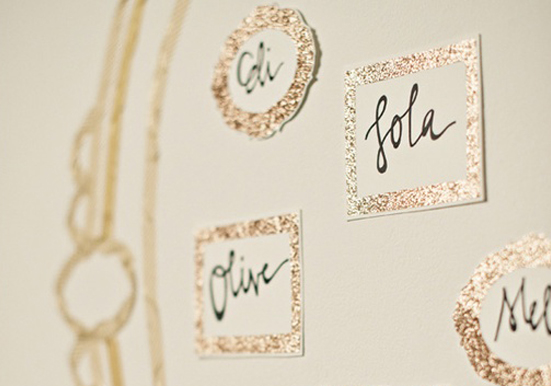 This was another cute way we saw glitter being used – on escort cards. Such a simple and easy DIY to put together.
Photo by Harwell Photography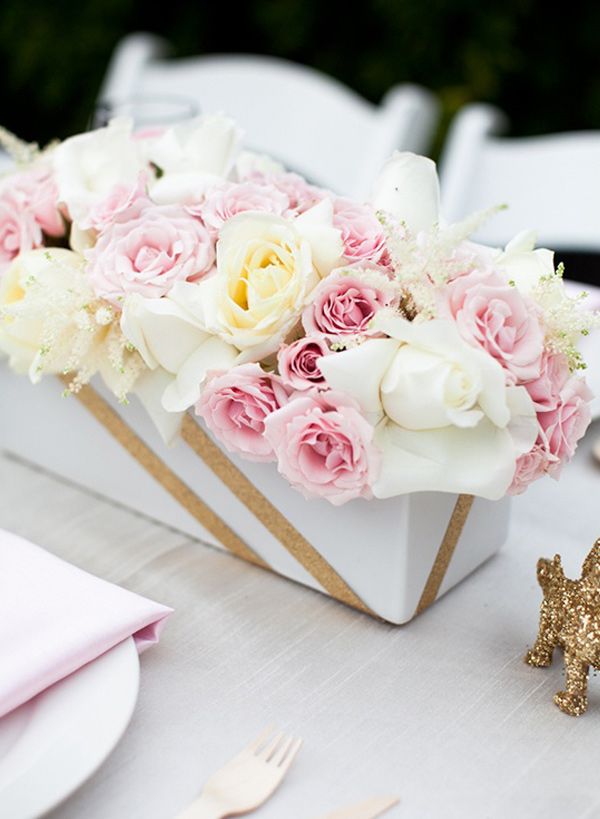 Adding a bit of sparkly tape, gold ribbon, or gold sparkly leafs can breath new life into your arrangement. It's modern yet girly. Just the way we like it!
Florals by  jl designs / Photos by Love Ala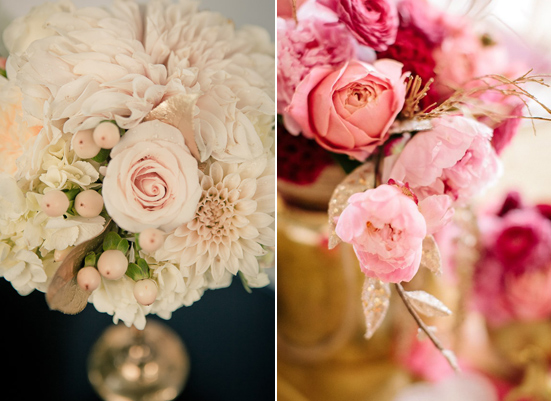 Florals by Nancy Liu Chin Designs + photo by  Gary Ashley of The Wedding Artists Collective  / Photo by Haley Sheffield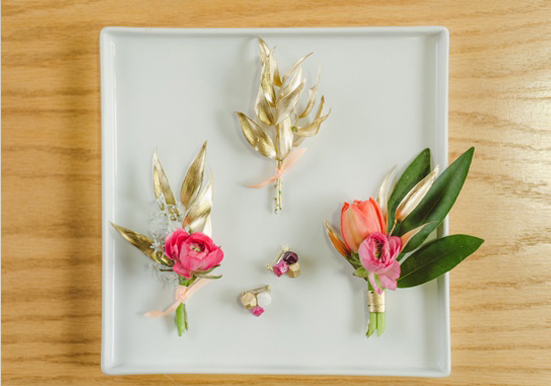 Love the idea of the fellas wearing a touch of gold in their boutonnieres. Perfect for all the bright summer weddings coming up!
Florals by Prairie Fair / Photo by Jeff Loves Jessica / Photo Styling by Confetti Pop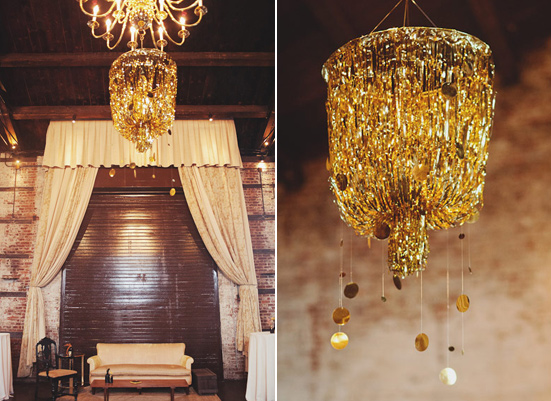 Wedding decor is one of the easiest places to add gold & sparkle to your wedding that will make an impact. These gold chandeliers were amazing. They made such a statement and we loved them so much that we figured out how to DIY them. You can check out our DIY here.
Event Designer  Sugar & Fluff  / Photo by Kristen Marie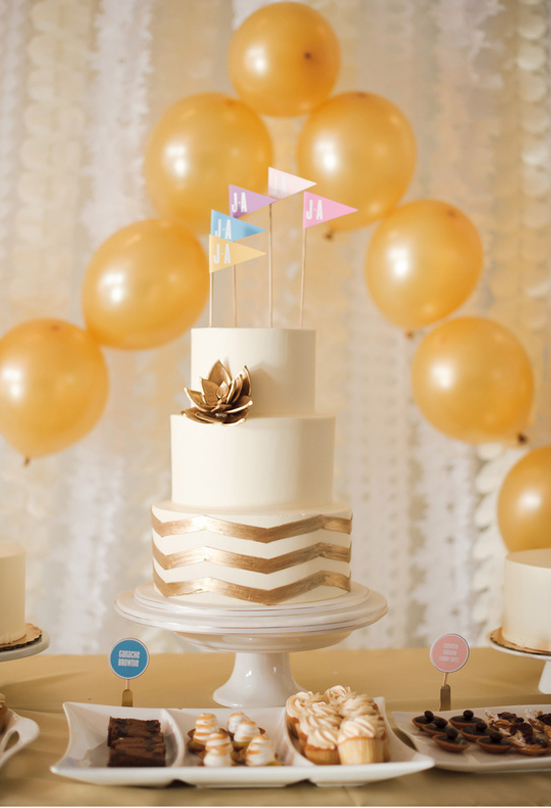 Now moving on to one of the last bits of a wedding, the sweets! We could do an entire post on just sparkly wedding cakes. You don't even have to go overboard with it and decorate every tier. This cake is so modern, has a fun pattern that was repeated throughout the wedding decor, and looks mighty tasty. We say go for it, add gold to your cake!
Cake by Bittersweet Chicago Photo by Avery House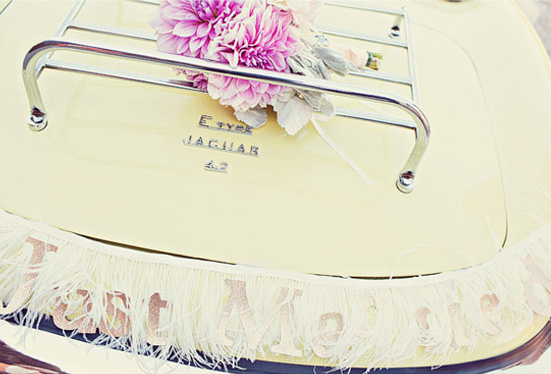 Then of course there's the last little touch that your guests see if you're saying goodbye in a snazzy getaway car. The good ol' 'Just Married' sign. This bride added white fringe to the back of their yellow jag along with gold glitter cut-out letters. How cute is that?
Photo by Ellie Grover

Whew! That was a lot of gold and sparkly inspiration. It's details like these that make us fall in love with weddings all over again, every day. We hope we've sparked some ideas for your wedding. We're sure we're going to be seeing a lot more sparkle in upcoming weddings, so pop over to the 100 Layer Cake blog anytime to check them out!
xo,
100 Layer Cake