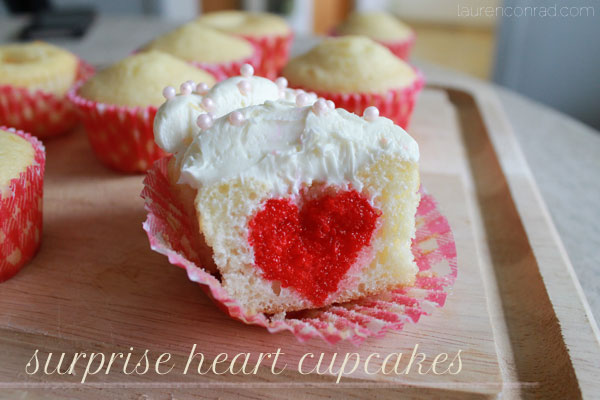 Around here, we LOVE to bake. Whether it's oatmeal cookies, red velvet brownies, blueberry bars, or apple pie, we've got a knack for whipping up sweets and pastries like it's nobody's business… In light of this oven-lovin', we wanted to bake up something special for Valentine's Day. And I think we found just the treat!
A few weeks ago Lauren and I were brainstorming some fun Valentine's Day themed treats to blog about here on the website and Lauren mentioned these cupcakes she saw that had hearts baked inside of them. I did a little research and found that these surprise-inside cupcakes were completely doable and relatively easy to make. I gave them a try and I think they turned out pretty well! Here's how I made them:
Suprise Inside Heart Cupcakes
Prepare Vanilla Cupcake batter.
Divide batter into two parts: Put half the butter into a large measuring cup with a spout (to make pouring the batter into the cupcake pan easier) or a medium bowl. Place the other half into a separate bowl and add red food coloring until you reach your desired color. (Tip: I made both pink and red versions, but the red turned out much better since there was more contrast between the two cakes… Lesson learned? Make sure your color is saturated and bold! Light colors will not turn out very well.)
Place cupcake liners into cupcake pan.
Pre-heat over to 350-degrees.
Add about 2 tablespoons of the regular batter to each cupcake tin.
Meanwhile, pour red batter into a non-stick baking pan so that there is a thin layer of batter (about half an inch is good).
Bake red batter for about 15 to 20 minutes until cooked through. (Tip: It's okay to under-bake them a bit since they will technically be twice-baked.)
Allow the red cake to cool completely. Once cooled completely, use a small heart-shaped cookie cutter to cut out mini hearts.
Place hearts, vertically and face forward into the cupcake pan as shown in the image below. (Tip: It's important to keep them all facing the same direction so that when you finally cut them open, you can see the pretty heart hidden inside.)
Once all hearts have been placed, fill the cupcake pan with regular batter until ¾ full.
Bake for approximately 20 minutes.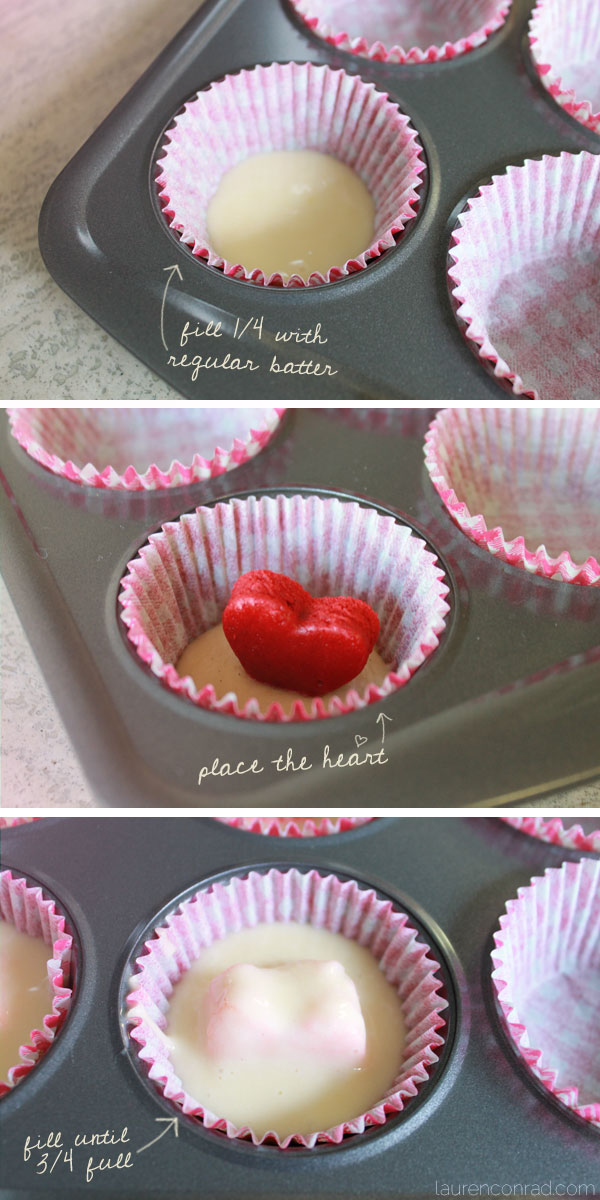 Once the cupcakes have cooked, remove them from the muffin pan promptly and allow them to cool for at least 15 minutes. To keep the cupcakes moist, I put a piece of aluminum foil over them while they cooled.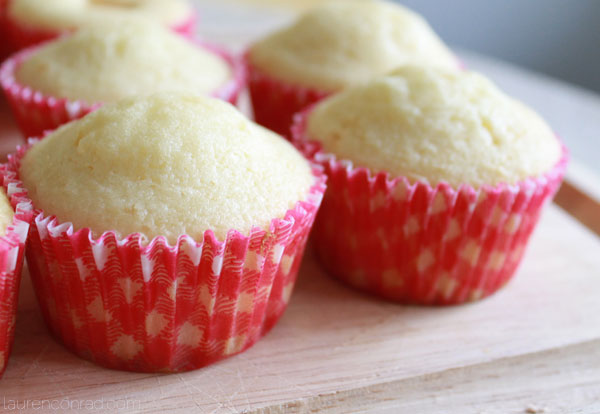 Once they were cooled, I frosted them with freshly made buttercream frosting and topped them off with pearly sprinkles that I found at a local craft store.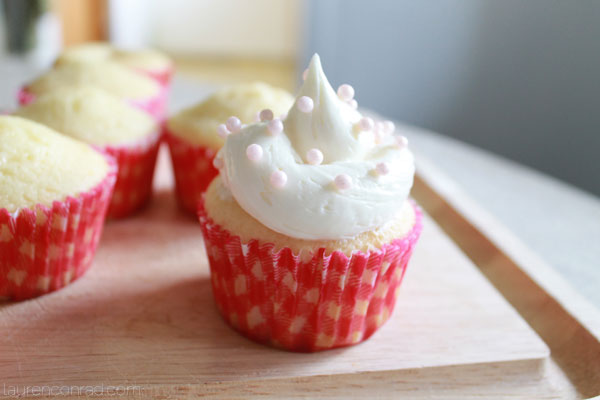 While they might seem involved, these were great fun to make and they were even more fun to eat. Whip these up for your friends or your Valentine and be sure to tell them that there's a surprise awaiting them inside…
Also, if you're planning to cook up something special for Valentine's Day, check out this inspring Valentine's Day dinner spread from our new contributors!
Do you have a signature Valentine's Day treat that you like to make this time of year?
Xx Alex
Team LC
P.S. I'm at  New York Fashion Week! For up-to-the-minute runway news, be sure to follow the Team LC account on Twitter!