Picking the perfect red lipstick to compliment your skin tone is more important than you might think… Swipe something on that's too bright and you end up looking like a clown. Pick something too blue-based and you could be mistaken for a corpse. That's why I am going to lay down the law on which reds go best with different shades of skin. I've decided to break down the different skin colors into general categories, so if you don't see an exact match, try to find a happy medium between the two closest shades… Or if in doubt, go for a coral-red since it's a universally flattering color.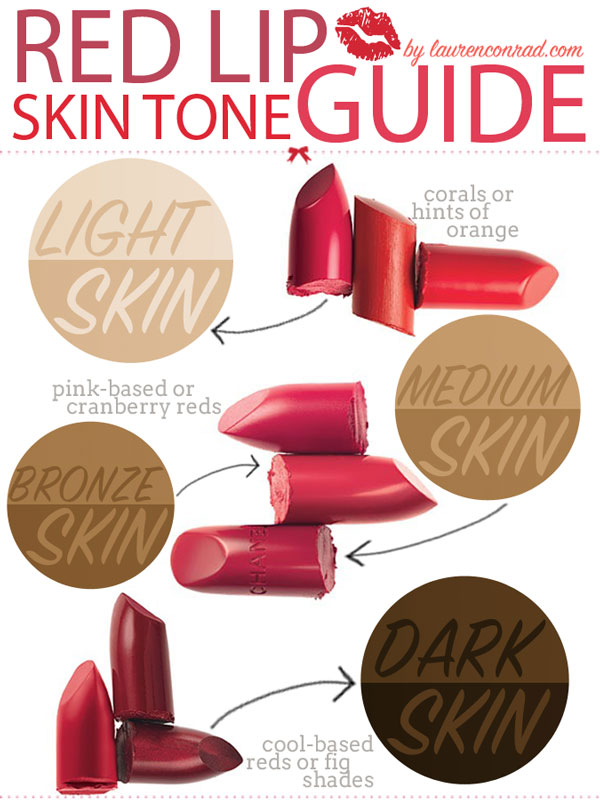 So let me break this down for you…
Fair Skin Tones
If you have a peaches and cream complexion, here's what you need to know:
For pink undertones, opt for coral reds since they are not so overpowering. Matte reds with a hint of orange look great too.
For yellow undertones, go with a coral or brick red that is a bit warmer.
Medium + Bronze Skin Tones

For those of you with more olive or golden skin, here's what works best for you:
Lucky you! Most shades will work with your coloring… Go crazy!
True reds, cranberry shades, and pink-based reds look especially lovely with your coloring.
Dark Skin Tones
If you have a deeper complexion, with cool undertones, here's what you need to know:
Blue-based reds and cool shades will look best with your rich coloring—think fig, dark cherry, and dark jam.
Stay away from anything too bright, otherwise it will look harsh.
If you have any extra pointers, please sound off below! Also, if you have a favorite brand and color that works well with your skin tone, be sure to share that too.
Which red hue are you?
XO Lauren
Photo: image layout by LaurenConrad.com