This story is from our partner, PopSugar! Twice a month we'll share PopSugar's best fashion tips and shopping guides. Today's post teaches you how to pair leather with florals:
Pair Floral Printes With Learther for a Refreshing Spring Jolt
With Fashion Week around the corner, we're already looking for new ways to refresh our Winter wardrobe. Combining function with style, try pairing your tried-and-true leather skinnies (faux or real), with a burst of color via floral-print sweaters inspired by the bouquet of botanic prints seen on the Couture Spring '13 Fashion Week runways. For extra polish, layer a crisp collared blouse underneath, and complete the outfit with chic oxfords. We can't think of a better way to mix up our cold-weather look, and if you're just as inspired, then shop our outfit ideas below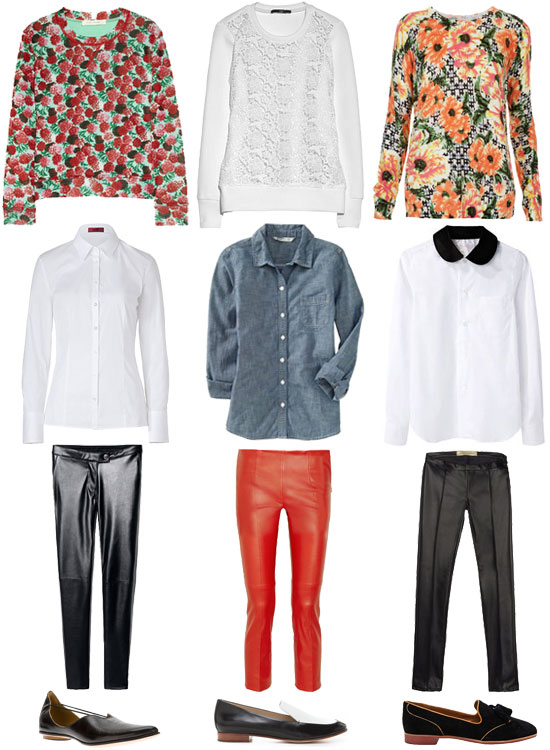 Shop left to right: Marc Jacobs Floral-Print Knitted Sweater ($895), Hugo Optic White Stretch Cotton Etrixe1 Blouse ($120), Romwe Splicing Black Leahter Pants ($63), Cydwoq Pointed Toe Loafer ($369), Tibi Neoprene Floral-Lace Sweatshirt ($425), Old Navy Women's Chambray Shirt ($25, originally $30), Miu Miu Cropped Stretch-Leather Pants ($2,100), Elizabeth and James Cassi Loafers ($325), Topshop Knitted Gingham Floral Top ($76), Comme des Garçons Peter Pan Collar Shirt ($185, originally $370), Blumarine Casual Pants ($128, originally $315), Dolce Vita Millie Tassel Loafer ($80)
Do you think you'll give with leather + floral look a try?
XO Team LC

More Stories from PopSugar:
5 Best Peacoats You'll Find This Season
3 Chic Ways to Wear a Sweater Dress
42 Ways to Give Your Winter Wardrobe and A-List Upgrade
5 Ways to Layer Winter Clothes Like a Pro