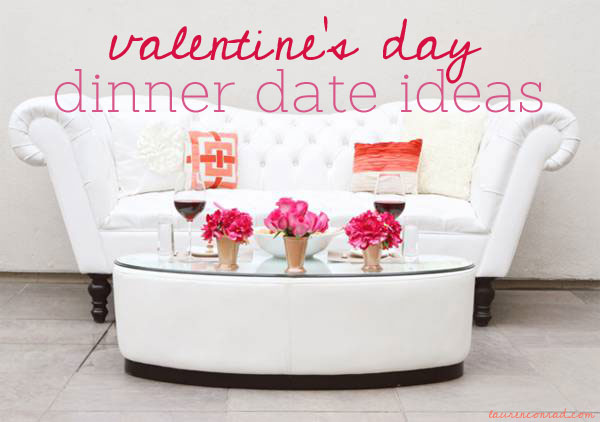 Hi LaurenConrad.com friends! It's Kristi from SaucyPants! You might remember our posts from the Fourth of July or New Year's Eve. We are very excited to have joined the lovely list of LC contributors and we're back with another fun post for you today! With Valentine's Day just around the corner, I wanted to show you all how to celebrate in style with that special someone! Here is a little "Romantic Valentine's Day Dinner For Two" that I put together to inspire you! I hope you like it!
For starters we set the scene at the beautiful Inspirador here in Chandler, AZ. I am engaged, so right now I especially appreciate beautiful venues like this! And how delicious is that couch and coffee table from Classic Party Rentals? I love white settings when using pops of color in my decor!
We carried a red, hot pink, and gold color palette throughout the dinner setting and this romantic canoodle by the fire! Don't worry, we will be sharing the full DIY tutorial of this XO marquee sign this week on the blog, so hop on over! Yep I made it! My fiancé was pretty impressed, and I gotta say, I was pretty impressed too! Hehe!
You have to have something sweet on Valentine's Day right?! We whipped up these Healthier Organic Caramel Apples using beets to make them red, and they were oh so delicious! We've got you covered with the recipe. We will be sharing it this week on the blog.
How cute is this ring?! I fell in love with it when our co-worker found it on Etsy! (Christine Domanic is the seller! Amazing right?!)
It's all in the details! I decided to spruce up our wooden utensils by painting a red and hot pink pattern on them.
These little favors will have your honey coming back for more! We grabbed up some clear boxes, filled them with popcorn (healthy again), and glued on some ribbon and our favor tags.
We set the table using gold card stock for place mats. We also used wooden spoons and dotted them with a hot pink stamp and a pencil eraser to make the circles. We also decorated the chairs with ribbon and these red paper medallions from Petite Party Studio.
I couldn't resist mimicking the scene from Lady and the Tramp! That was one of my favorites growing up. I still love it, and I can't get over that scene AND how cute this reenactment turned out. You should definitely try it with your Valentine. It's super fun!
Ah! I can't get over these favors!
This Vegetarian Spaghetti is as delicious as it is pretty! We gussied it up with our Valentine's Day printable tent cards!
Another tutorial we are sharing with you on the SaucyPants blog – these Dark Chocolate Hot Cocoa Sticks.
We served pink lemonade in some old pop bottles and covered them with our printable pop labels! We also served Charcuterie Skewers (Italian meats + cheeses) and topped them with our printable flags.
To make the balloons pop … well not literally—to make them pretty I should say –we added tissue paper garland strings.
Another fun idea we came up with was to make a giant box and fill it with heart-shaped balloons and a Happy Valentine's Day sign to surprise your recipient!
Or you can pop out of the box yourself … that might be more fun!
To make your babe feel special, make these vintage photo serving trays…
I had some old silver vases laying around, so I painted them gold using gold gilding. To me the gold was a better fit with the decor!
And your boy or girl is sure to give you something sweet!
I love the way these pillows shine against the white couch!
And finally, don't forget to tell your Valentine you love them! You can use our printable sign if you haven't said it yet.
Happy Valentine's Day!
Enjoy 50% off our Valentine's Day Party Printable Collection with code LCLOVE50 in our Etsy Shop or SaucyPants Shop. Oh and in our SaucyPants Shop, it's an instant download!
Thank you all for letting me share! I hope you have a sweet Valentine's Day!
How are you going to celebrate Valentine's Day this year?
xoxo
Kristi Murphy
SaucyPants