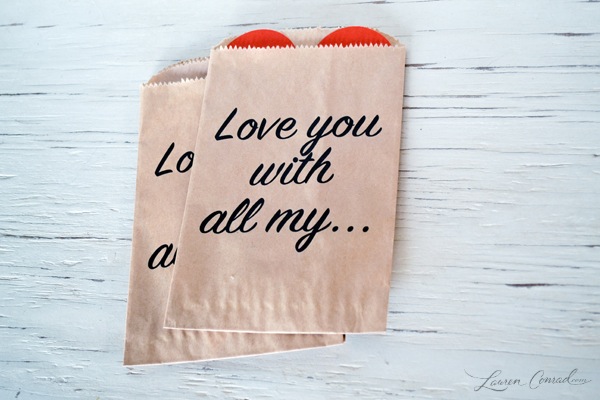 Hi everyone, it's Ilana from Team LC. Today I'm back with another Valentine's Day DIY. I'm always looking for an excuse to craft, and Valentine's Day is as good a reason as any. Whether you're single, attached, or a newlywed like I am, a little something handmade is a great way to show the important people in your life how much you adore them. I love this DIY valentine because it's the definition of sweet and simple. If you're still looking for something to give that special someone, this quick and easy design is a perfect last minute project to take on. Check out the how-to below…
Here's what you will need:
Kraft paper treat bags (I used the 5"x8" size)
Pink or red cardstock or cover weight paper
Scissors
Home printer
Double stick tape
Instructions:
Draw or trace out a heart that will fit snuggly in your treat bag. Cut out the heart and set aside.
Type up your outside message on the computer in a font of your choice. Print out a test sheet on regular paper and confirm that the text is the right size to fit on your treat bag.
Run the treat bag through your home printer. (I did this by sticking the treat bag onto the test sheet with four small pieces of double stick tape, and running the sheet through again.)
Insert your heart into the printed treat bag and present it to your valentine.
Easy, right? You can also try out other variations of the message like "You have my…" or "Follow your…" And if you're looking to add a more personal touch, jot a sweet message onto the heart.
Have you ever made your own valentine?
Upload a photo to your LaurenConrad.com profile page, and share the link below!
xo Ilana
Team LC