While the weather in Los Angeles has been fooling me into thinking spring has already sprung this week (temps have been in the mid 70's for days), the rest of the world is most likely experiencing normal chilly winter weather this time of year. It's a little strange to associate the month of February with temps that are warm enough to go to the beach and skies that are sunny enough to get a tan. And sometimes I do catch myself daydreaming of being somewhere with snow on the ground and smoke pouring out of chimneys instead. During these daydreams, I would want to be wearing the exact outfit that our newest Chic of the Week is sporting in the photo below…
Congrats to Emily G.! Your style is so winter-wonderland chic!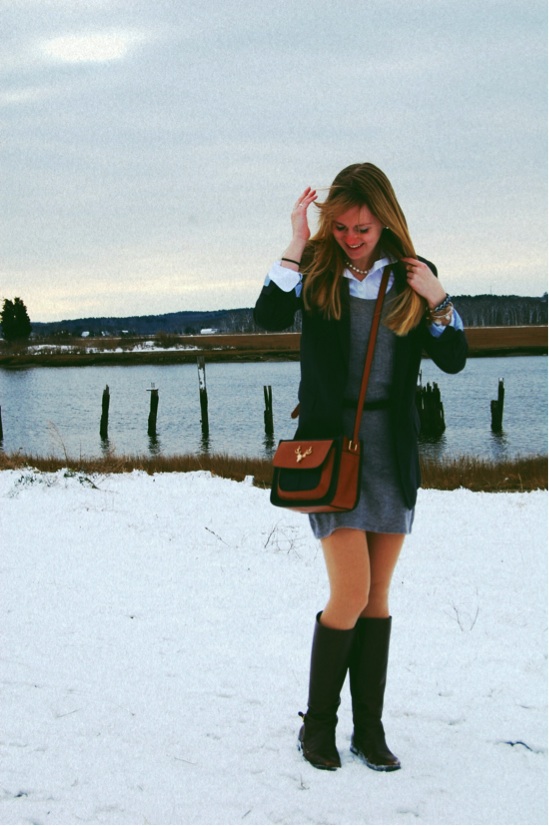 Our newest Chic is one brave babe. Emily didn't let a little snow get in her way of putting together a cute look. She layered up with a crisp white button-down, a gray sweater dress, and a cardigan for added warmth. Her preppy boots pull the whole outfit together and make it winter weather appropriate. And Emily accessorized with a ladylike cross body bag and a pearl necklace. Forget winter wonderland—this is xzfashion wonderland…
Congrats again, Emily!
What do you think about our Chic's brave winter ensemble? What's your go-to outfit this month?
xx
Allison
Team LC
Photo: Emily G.