I don't know about you, but my bank account is looking extra pitiful post-holiday. Imagine a dried up lake with nothing but a pathetic puddle of water in its core. Now take away the puddle and that's my shopping budget. Bare to the bones. And I'm totally okay with it. Why, you ask? 'Cause nobody knows how to rock re-wears like a fash lover without a trust fund. Channeling your inner stylist to create new looks with familiar pieces is a wardrobe survival must and can be a total blast. When it comes to creating different looks, one thing is for sure, creativity is essential. Try creating new combinations like a standout silhouette, new color combinations, pairing new patterns and prints, anything that screams DIFFERENT.
When I spotted this LC Lauren Conrad blazer on a mannequin in Lauren's New York Showroom at the Kohl's Design Center over the summer, I simply knew it was destined to hold a high rank in my wardrobe once it hit stores. Every season there tends to be a star piece in my closest that I simply can't get enough of. This season… it's without a doubt this extremely versatile and classic red blazer, (I also have it in blue) which just so happens to be on sale for $34.99. Get it quick, ladies. You can thank me later.
Below are just a few of the ways I styled my LC Lauren Conrad blazer this season. Which look is your favorite?
Retro Red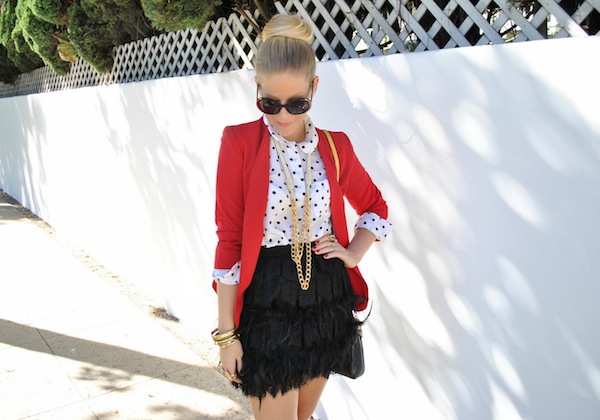 Blazer –  LC Lauren Conrad , Blouse – Equipment, Skirt – DKNY
Sunglasses – House of Harlow 1960, Heels – ShoeMint
Handbag – Little Black Bag, Necklace – Derng
Tip #1: Go with a theme. Imagining a decade or a certain theme is a great way to pull inspiration. Classic polka dots and knee high socks always remind me of this fabulous retro Barbie I had growing up. Pulling inspiration from the things around you is always a great jumping off point if you feel you've hit your styling limit.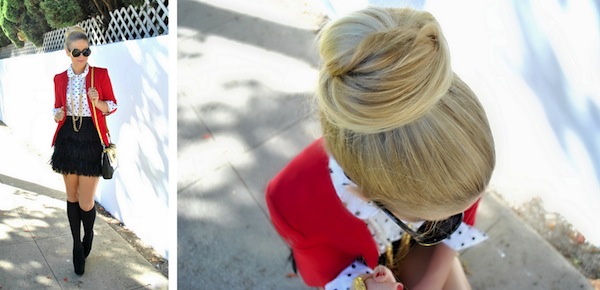 Edgy Chic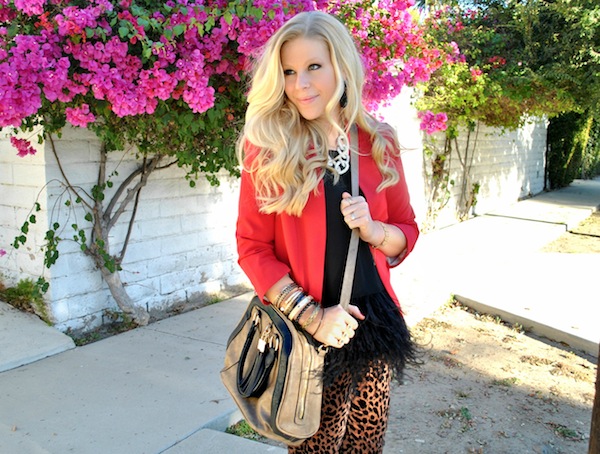 Blazer: LC Lauren Conrad, Blouse: Blaque Label, Handbag: R&J Coutur
Pants: Loft, Heels: ShoeMint , Necklace: Loft*sold out
Tip #2: Add Patterns. Whenever I find myself style-stuck with a piece I've worn multiple times, I always turn to patterns. A bold print will steal the focus and become the new centerpiece of your look, allowing you to get away with wearing your favorite item again.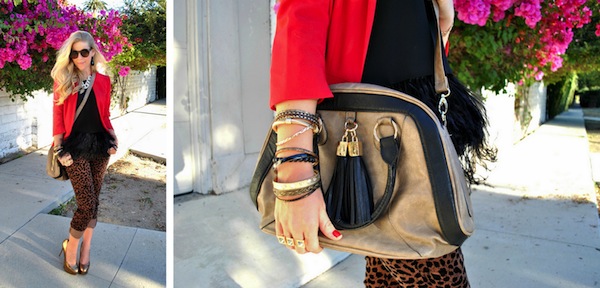 Party Classic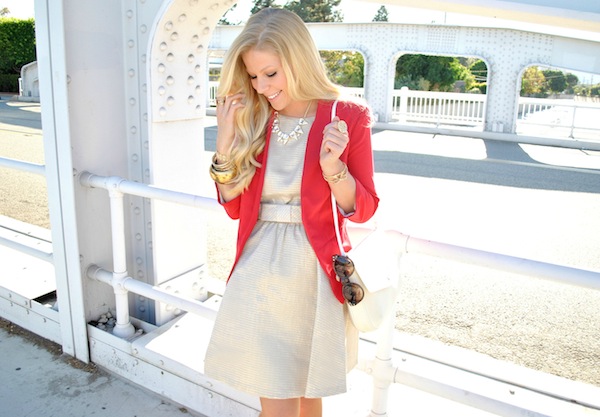 Dress: LC Lauren Conrad, Blazer: LC Lauren Conrad, Necklace: T+J Designs
Bow Ring: Posh Locket, Leaf Ring: Posh Locket, Handbag: ShoeMint, Heels: ShoeMint
Tip #3: Silhouette Switch. One of the most effective ways to change up a look is by changing the silhouette. While a piece may look casual and fun when paired with skinny jeans, it can just as easily look chic and elegant with a fabulous dress.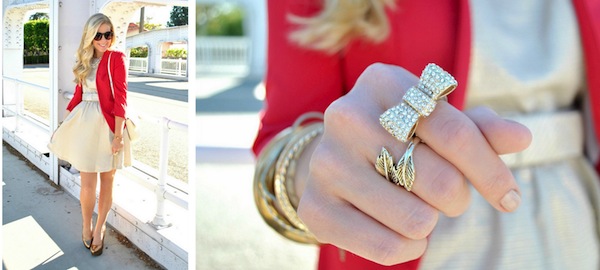 Americana Casual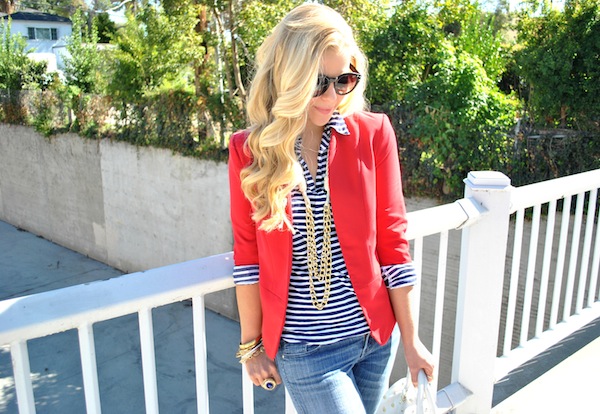 Blazer: LC Lauren Conrad, Shirt: Splendid, Necklace: Derng
Link Stone Bracelet: Fragments, Ring: Pop of Chic, Boots: Pink and Pepper
Tip #4: Up/Down Method. Whenever you buy a statement piece it's important to remember that you will have far more opportunities to dress down an item rather than dressing it up. When styled appropriately, the up/down method is the easiest way to re-wear a piece. Go dressy the first time, with a skirt or dress and casual the second time with shorts or pants. It works every time and will instantly breathe new life into your re-wear.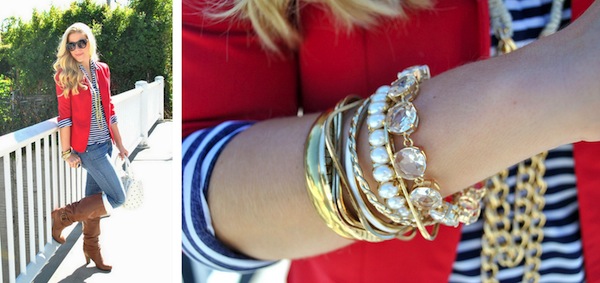 Which piece in your wardrobe do you love to re-wear?
xoxo
Anna
Fash Boulevard
P.S. For more re-wear inspiration check out how I styled my little black dress four ways here!