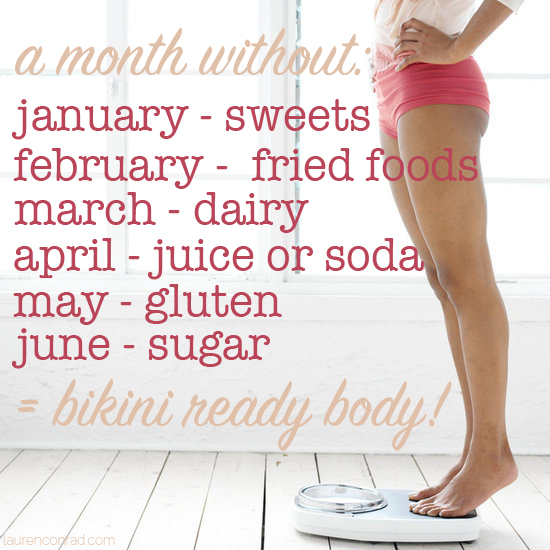 Hey guys, it's Alex! This month we are kicking off our Bikini Body Countdown (for me, this is my "Bridal Body Countdown") to go along with all of the fun health and fitness blogs we've been posting. Yes, it may be January, but it's never too early to start getting healthy and in shape so we thought we'd present you with a challenge to get the countdown started: The Off-Limits List. Each month, nix one of the above (but feel free to substitute your dietary vices to tailor this to your needs…a few suggestions: chocolate, white bread, late-night snacking etc.) and commit.
We love this gradual plan since you will see changes in your physique without cutting everything out all at once (which we don't recommend). As you may already know, we are not fans of unhealthy, crash diets. Crash dieting is never good—we want to encourage you to make healthier choices now so you don't stress about the scale later.
Personally, I like the idea of giving this plan a try because it is not only a great way to flex your willpower (it's like a muscle, remember?); it's a nice way to break bad habits. It's been said that it takes 21 days to break or create a habit. By giving up one of your vices each month you will also be working to rid yourself of a negative habit (I'm sure that I am not alone when I say that I'd love to get rid of my incurable sweet tooth and habit of reaching for a chocolate around 4pm each day). So give this a try and we will check in each month to see how everyone is doing! The light at the end of the tunnel? By the time bikini season rolls around, you will be in tip-top shape. Especially for those of you who are doing Lauren's Get Fit Quick Plan!
Let me know if you're going to join our Bikini Body Countdown by giving this Off-Limits List a try in the comments below. If you decide to give up different things, tell us about your personalized monthly breakdown, too.
Cheers to a new year, and an improved and healthier you!
Xx Alex
Team LC
P.S. Love all the comments about St. Patty's! Remember, you can change it up so that this makes sense for your schedule!