Still getting over those holiday cookies and cocktails? You might need some motivation to get back on track. If you're interested in cleaning up your diet and boosting your energy, you don't have to put off your New Year's resolution any longer: improve your health and secure your slimmer bod with a Kaeng Raeng cleanse!
Kaeng Raeng is an all natural, meal replacement cleanse program that helps jumpstart weight loss, improve digestion, cut cravings, bolster immunity, and give your skin a natural vegan glow. Just drink one meal replacement pouch 3 times per day for 3-6 days. The best part is that you can eat as many raw fruits and veggies as you want! Kaeng Raeng contains no artificial colors, flavors, sweeteners, or preservatives, and no laxatives or stimulants.
Want to know more? Hear from founder and CEO Lindsay Reinsmith on creating Kaeng Raeng:
"When I formulated Kaeng Raeng, I wanted to maintain the principles of a raw vegan diet, but in a form that was convenient and easy for everyone.  I had some serious criteria for Kaeng Raeng, and I know you'll love the finished product.
It had to be simple: So many cleanse programs are completely impractical, whether they require fasting, contain harsh laxatives, have long commitments and complicated instructions, or cost $100/day. We know that's not for everyone, which is why we created a simple meal replacement system starting at $16/day.
It had to taste good!  I personally created Kaeng Raeng as something I would like to drink, and I'm pretty picky!  We use more than a full serving of real fruit in each pouch with no added sugars or flavors so it's got a natural, simple taste.  Plus you can customize the shakes to your taste and blend them with water, juice, and fruits and veggies.
It had to be good for you and the environment: Kaeng Raeng is 100% vegan and is the only cleanse endorsed by animal rights activist and best-selling Skinny Bitch author Kim Barnouin.  Each pouch contains a serving of fruit, fiber, 15g of lean protein, 2 billion live probiotic cultures, and daily vitamins. We source all of our ingredients from local farmers and use environmentally friendly practices to bring healthy living right to your doorstep.
It had to be made with YOU in mind:  No two people are going to do a cleanse program the same, which is why Kaeng Raeng is customizable for your specific goals and needs. Choose Beginner (for first time users), Veteran (for vegetarians or those who've done at least one cleanse), or Master (for experienced cleansers and health nuts). Not sure which one is best for you? Take this quiz to find out.  Kaeng Raeng is also completely vegan (dairy free), gluten free, caffeine free, and peanut free.
As a small business, we're dedicated to helping our customers get healthy in a safe and natural way. I personally use Kaeng Raeng every January to jumpstart a healthier new year."
Check out this video about Kaeng Raeng, or watch the full length commercial here.
 
Update! We have our winner!
Congratulations, JEHMIMA!
Win It!
You've probably seen the Kaeng Raeng cleanse mentioned here before.  Our last giveaway was very successful, so we decided to do it again! Just leave a comment on why YOU want to try a vegan cleanse and follow us on Facebook to be entered to win a free 3-Day Beginner program. Can't wait? Use code LAUREN20 for 20% OFF at kaengraeng.com. Hurry! This offer expires 11:59PM PST on January 21, 2013.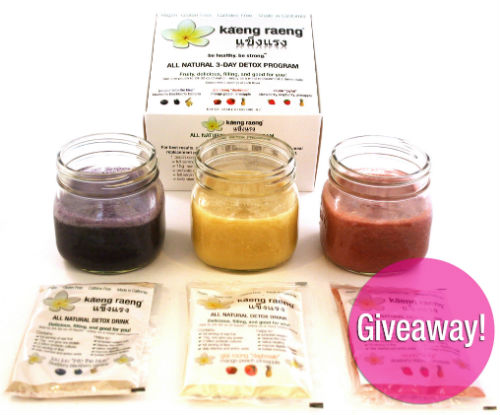 KR ships anywhere in the US and several countries worldwide!  KR is also available at select Whole Foods Market stores in the US.  Check with your local store for availability.