HI everyone, it's Alex. I am engaged to a serious sports lover who is particularly obsessed with football. While I'd love to say that I, too, share his enthusiasm for the pigskin, I'd be lying (although I do enjoy a good game here and there). The good part about my fiancé's football fascination is that I really enjoy all of the food that goes along with it… Bring on the nachos and jalapeno poppers! I especially love to cook these not-so-healthy delicacies. Over the years I've amassed an arsenal of go-to football-friendly recipes that have won over his sports-loving friends. Since the Super Bowl is this Sunday, I thought this would be the perfect opportunity to share my stash of man-friendly snacks to serve up come game time. Check them out below and be sure to tell me what you like to indulge in on game day, too!
Chicken Taco Pizza
I originally found this recipe on the Whole Foods website and it's been a must-make ever since. Sometimes I substitute carne asada for the chicken and that always seems to go over really well. Click here for the recipe.
Buffalo Chicken Sliders
These are so good. This recipe is from Blog Chef and it's just amazing. It's super easy to make and guys gobble them up. Click here for the recipe.
Jalapeno Popper Dip
Don't get me wrong, I love a classic popper, but this dip is a nice alternative to the fried favorite. I found the recipe on Simply Gourmet and it's a winner. I like to serve it with classic tortilla chips or sliced up sourdough bread. Click here for the recipe.
Potato Skins
What would a Super Bowl party be without these? This Pioneer Woman recipe deserves a touchdown. Click here for the recipe.
Buffalo Chicken Dip
This is always a fan favorite. The recipe is by The Girl Who Ate Everything and it's downright divine and ridiculously easy to make. Serve with chips or sliced vegetables, like celery. Click here for the recipe.
Corona Cupcakes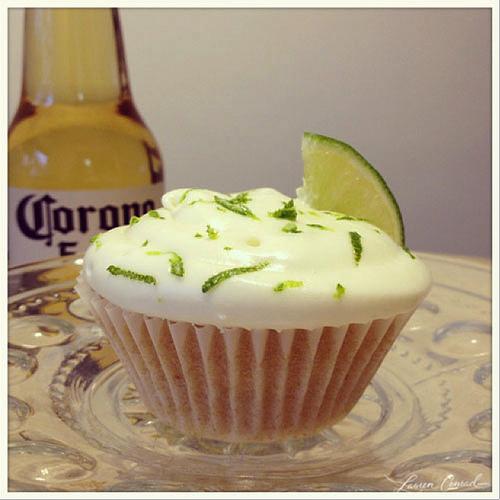 I substituted the Corona for Blue Moon last year and the results were delicious! So good! Click here for the recipe.
Ham & Cheese Pretzel Bites
This recipe is from Yummilicious and it's out-of-this-world. I typically divide the batch and make half sans ham since I don't eat pork. Either way, they are delicious! Just be sure to give yourself some extra time to make these since you need to make the pretzel dough. Click here for the recipe.
Do you have a favorite football-approved appetizer?
For more of our favorite game day recipes including potato wedges and hot wings, click here!
Xx Alex
Team LC
Photos: LaurenConrad.com