Despite the general opinion, living in sunny Southern California still requires a bit of bundling up during the winter months. And by the time January rolls around, I often feel like I've run out of creative ways to look cute and still stay warm at the same time. I've exhausted all of my cable knits, worn my skinny jeans to threads, and broken in my boots. With several months to go before spring is upon us, what's an uninspired fashionista to do? Look no further than our newest Chic of the Week, that's what. This LaurenConrad.com member takes laid back beachy style to a whole new level, and she stays warm and cozy while doing it… Congrats, LifeofChanel, you're our newest Chic of the Week!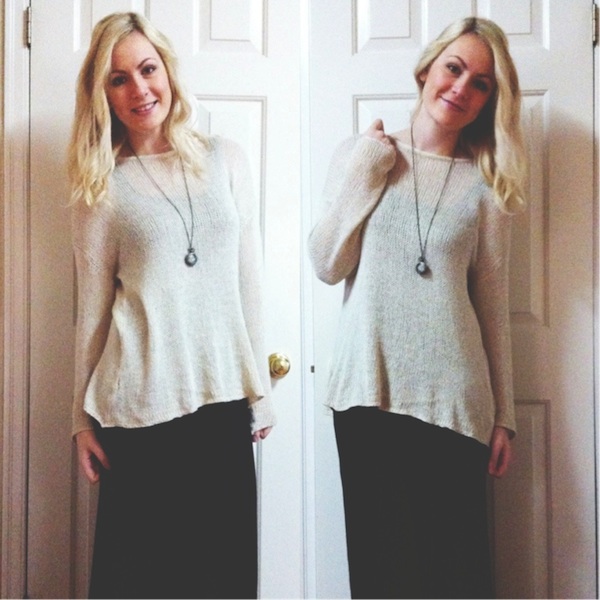 In my opinion, this member's winter outfit is sheer genius for so many reasons. She took a classic black maxi—a summer wardrobe staple—and made it cold weather-appropriate by layering a cute cream knit over it. While the pairing of these pieces may be a little unexpected, it works in every way. Her long necklace and blonde beachy waves put the finishing touches on this look.
I now know what I'm going to be wearing to work tomorrow, thanks to our newest Chic of the Week. Congrats, LifeofChanel… Your maxi moment made major waves in my book!
Will you try this alternative winter ensemble?
To enter for a chance to be our next Chic of the Week, upload your favorite cold-weather outfit to your profile page and leave the image link in the comments below! Click here to learn how to upload your images.
P.S. For tips on how to style your maxi, click here to read Lauren's post: How To Wear: The Maxi.
xx
Allison
Team LC