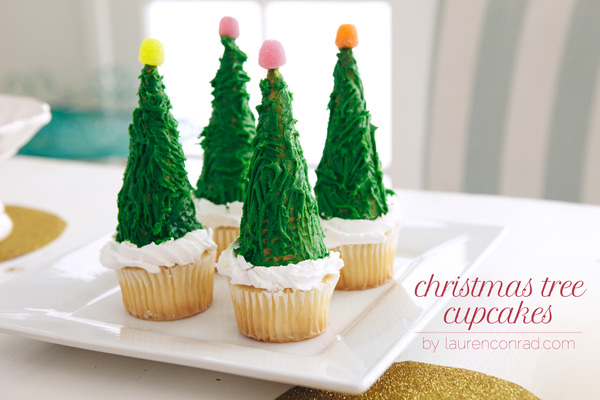 Around here we love giving food a festive spin. Whether it's transforming sugar cones into Witch Hat Delights for Halloween or getting frosty with Patriot Pops for the Fourth of July, we like to think of ourselves as a team of holiday-loving-foodie-crafters. After brainstorming dozens of creative treats for the winter holidays, we struck gold when we came up with Christmas Tree Cupcakes (inspired by our Witch Hat Delights). By simply taking a sugar cone, frosting it with green icing, and topping it off with a gumdrop, we transformed basic vanilla cupcakes into something entirely new…and oh-so-cute! Double win! To create your own forest of these delicious treats, read on for our favorite vanilla cupcake recipe along with some tips for giving your cakes the coned-off tree look…
Vanilla Cupcakes
Recipe courtesy of Martha Stewart
Makes about 30 cupcakes
Ingredients
1 3/4 cups cake flour, not self-rising
1 1/4 cups unbleached all-purpose flour
2 cups sugar
1 tablespoon baking powder
3/4 teaspoon salt
1 cup (2 sticks) unsalted butter, cut into 1-inch cubes
4 large eggs
1 cup whole milk
1 teaspoon pure vanilla extract
Colored Sprinkles, for decorating, optional
Alternate frosting: Billy's Chocolate Buttercream
Directions
Preheat oven to 325 degrees. Line cupcake pans with paper liners; set aside. In the bowl of an electric mixer fitted with the paddle attachment, combine flours, sugar, baking powder, and salt; mix on low speed until combined. Add butter, mixing until just coated with flour.
In a large glass measuring cup, whisk together eggs, milk, and vanilla. With mixer on medium speed, add wet ingredients in 3 parts, scraping down sides of bowl before each addition; beat until ingredients are incorporated but do not overbeat.
Divide batter evenly among liners, filling about 2/3 full. Bake, rotating pan halfway through, until a cake tester inserted in the center comes out clean, 17 to 20 minutes.
Transfer to a wire rack to cool completely. Repeat process with remaining batter. Once cupcakes have cooled, use a small offset spatula to frost tops of each cupcake. Decorate with sprinkles, if desired. Serve at room temperature.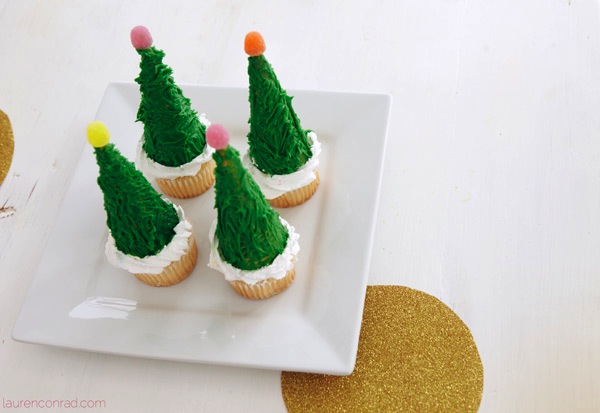 For the Christmas Tree Toppers…
Place a sugar cone on top of each cupcake and press into the cupcake firmly. Next, ice the entire cone with green frosting. (Tip: Hold the cone steady by placing your index finger on the top of the cone and pressing down.) Then, using a fork, texturize the green frosting until you reach your desired "Christmas tree" finish. We topped off our mini trees with gumdrops and added a little extra frosting around the base to make it look like snow. Decorating the trees is entirely up to you—just have fun and make them your own!
What's your signature holiday treat? Share it in the Recipe Gallery or sound off in the comments below!
XO Team LC
Photo: Christopher Patey for LaurenConrad.com
Recipe Source: MarthaStewart.com