This recipe is from our friends at Martha Stewart Living. Once a month we'll share our favorite Martha Stewart Living recipe here on LaurenConrad.com for all of you to try. Today's recipe is a delicious twist on a seasonal classic… Enjoy and happy cooking!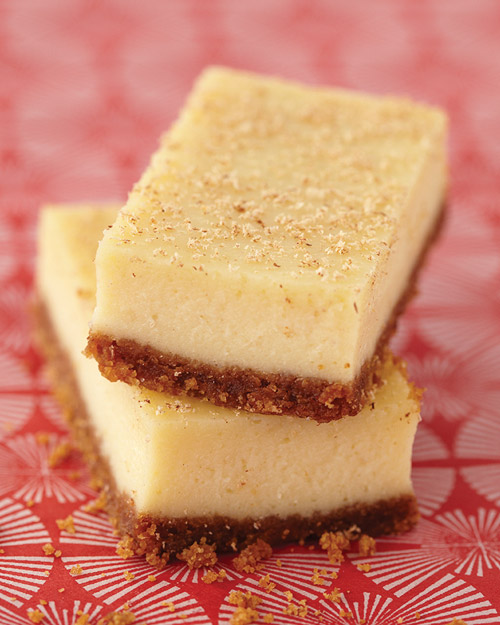 Serves 18
Ingredients
Vegetable oil cooking spray, for pan
12 graham crackers, finely ground (1 1/2 cups)
3/4 cup plus 3 tablespoons sugar
2 ounces (4 tablespoons) unsalted butter, melted
1 pound cream cheese, room temperature
2 large eggs
1 large egg yolk
3/4 cup eggnog
1 tablespoon plus 1 1/2 teaspoons all-purpose flour
1 tablespoon plus 1 teaspoon brandy
1 teaspoon pure vanilla extract
1/2 teaspoon freshly grated nutmeg, plus more for dusting
1/4 teaspoon salt
Directions
Preheat oven to 350 degrees. Coat a 9-inch square baking pan with cooking spray. Stir together graham crackers, 3 tablespoons sugar, and the melted butter. Press into bottom of pan. Bake until crust is just brown around the edges, 12 to 15 minutes. Let cool.
Meanwhile, beat cream cheese with a mixer on medium speed until fluffy, about 2 minutes. Add the remaining 3/4 cup sugar, the eggs, yolk, eggnog, flour, brandy, vanilla, nutmeg, and salt; beat until smooth. Pour filling over crust. Set pan in a roasting pan, and add enough hot water to come halfway up sides of baking pan. Bake until just set, 40 to 45 minutes. Remove baking pan from water bath, and transfer to a wire rack. Let cool slightly, about 30 minutes. Refrigerate for at least 3 hours or overnight.
Cut into 1 1/2-by-3-inch bars. Lightly dust tops of bars with freshly grated nutmeg just before serving.
What are some of your favorite classic treats with a holiday-esque taste?
Special thanks to Martha Stewart Living for sharing this fabulous recipe with us today!
XO Team LC
Source: Martha Stewart Living, December 2009
Photo credit: Martha Stewart Living