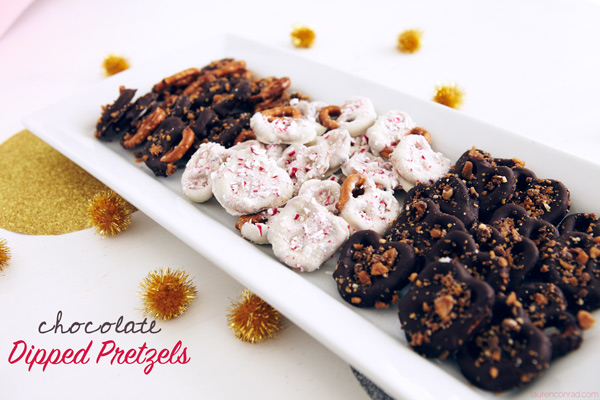 One of my Aunts always makes chocolate covered pretzels over the holidays so this year I decided to give it a try. Dipped pretzels are a simple, delicious treat that can be tailored to a variety of different tastes. Whether they're dipped in chocolate and sprinkled with crushed up peppermint, heath bar, or nuts—these sweet and salty little nibbles are a surefire crowd pleaser. Here's how I made my batch:
Chocolate Dipped Pretzels

Ingredients
chocolate chips (I did one batch with white chocolate, one batch with milk chocolate)
3 tablespoons butter
16 ounce bag of mini pretzels
topping of your choice (I used crushed up peppermints, heath bars, and nuts)
Directions
In a medium saucepan, melt the chocolate and butter together over a double boiler.
Once the chocolate and butter has melted, mix it up and then carefully dip the pretzels into the chocolate and immediately place the dipped pretzel onto a cookie sheet covered with wax paper.
Sprinkle your topping of choice over the pretzels.
Place cookie sheet into the refrigerator and allow to set for 30-minutes.
Not only are these little guys seriously delicious (and addicting!), they also make for excellent holiday gifts. Seal them in a jar with a pretty bow and you've got yourself an instant present, or set them on a platter and they'll serve as a delicious holiday party treat.
No matter what you decide to do with your Dipped Pretzels, they'll always be a big hit.
What will you top off your Dipped Pretzels with?
XO Lauren
Photos: Christopher Patey for LaurenConrad.com