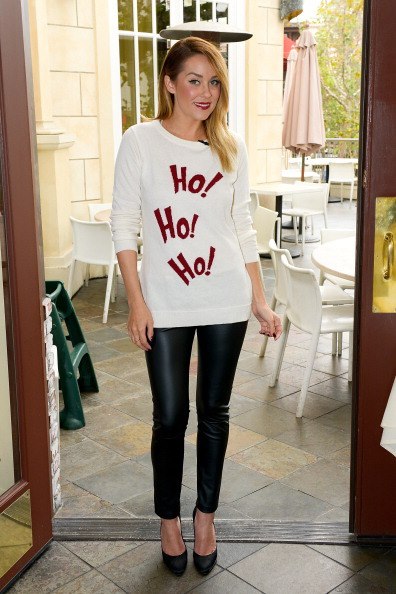 Team LC here! Last week Miss Lauren went to shoot a segment for Extra and we just cannot get over how cute her outfit was… We adore her novelty sweater and leather leggings, both of which happen to be amongst our favorite trends this season. Since we thought you would be curious as to what Lauren wore, we got all the deets for you…
Shop the Look!
Ho! Ho! Ho! Sweater by LOT78
Zircon Legging by Paper Crown
Givenchy Heels
For a more wallet-friendly version of the sweater, check out this Mistletoe Sweater from ASOS. Also, these Platform Heels from Lauren's LC Lauren Conrad collection are a perfect dupe for her Givenchy pumps.
Style Tip
When it comes to the holidays, have fun. By pairing a cheeky novelty sweater with edgier elements like leather leggings and pointed heels, you can easily create a fashion-forward looks that's festive and on-trend. Just remember to keep your look balanced by doing sophisticated but simple hair and makeup.
What do you think about Lauren's look?
Also, not sure what to wear to all those holiday parties this month? Check out Lauren's Holiday Party Style Guide that's got you covered for every type of holiday soirée that comes your way!
And don't forget to check out our 10 favorite affordable holiday party dresses too!
XO Team LC
Photo: Paper Crown