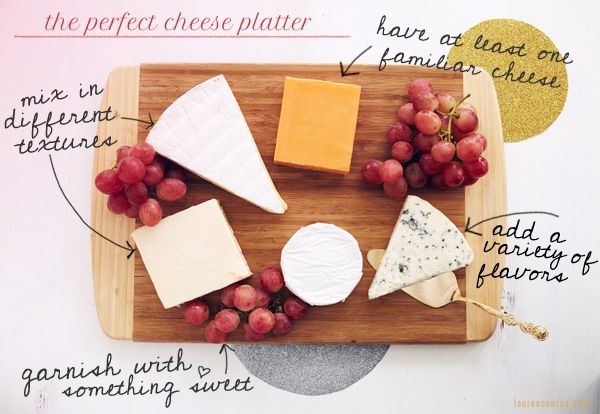 Serving up a great cheese platter is an art. For most, it's a skill that is cultivated and learned with time and multiple tastings… Though for you, it will be as easy as reading this blog! Here's what you need to know when selecting cheeses for a cheese platter:
Variety is key! I like to make sure I include at least one of each of the four main flavor categories of cheese: aged, soft, firm, and blue.
Mix textures. Like a good outfit, playing with texture is important for a flavorfully flattering cheese platter. Soft, dry, creamy, or hard…just be sure to keep your selections diverse.
Include at least one familiar cheese. This is important because everyone might not be as adventurous as you (or they might be just the opposite). Plus it's nice to include a cheese that your guest can easily identify. Cheddar or Swiss are usually a good bet.
Garnish! The garnish is just as important as your cheese selection. Be sure to compliment your spread with something sweet (such as fig compote or fresh grapes) as well as something salty (like cured meats or pistachios).
Offer the perfect pairing. Place the cheese platter beside crackers, pita bread, crostini, or bite-sized breads so your guests can pair the cheese with something starchy.
For an extra touch, it's never a bad idea to label the cheeses so your guests know exactly what they are getting themselves into… One of my favorite ways to do this is by using a chalkboard serving dish. Learn how to make your own with my video tutorial by clicking here.
Also, here's a mini crash course in cheese…
4 Cheese-Plate Friendly Cheese Categories
Aged: Aged Cheddar, Comté, Gouda
Soft: Camembert, Boursin, Brie, Goat
Firm: Manchego, Gruyere, Jarlsberg, Monterey Jack, Provolone
Blue: Gogonzola, Stilton , Roquefort
I think it's safe to say that now we're all cheese experts, no?
Do you have an Entertaining 101 question? Leave it in the comments below…
(Writing this blog has me craving—you guessed it—cheese and crackers!)
XO Lauren
Photo: Christopher Patey for LaurenConrad.com
Sources: Gardemanager.com, Ehow.com