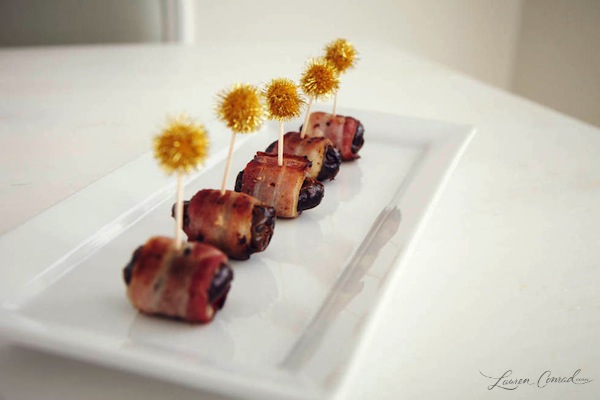 There's no fighting it—the holidays are here. Soon your calendar will be filled with festive gatherings and you'll be wondering what you can bring to each party that won't keep you locked up in the kitchen for hours on end (when you could be crossing things off your holiday shopping list).
Whenever I go to a holiday party, I like to bring a simple side dish or appetizer, like these bacon wrapped dates. I really love this app since it's insanely easy to make, and it's a downright crowd pleaser. Men are especially fond of it… I mean, when there's bacon involved you just can't go wrong!
Bacon Wrapped Dates
Simply wrap freshly pitted dates with your favorite type of bacon and bake in the oven at 400-degrees for 15 minutes (rotating rolled pieces so each side browns and gets crispy).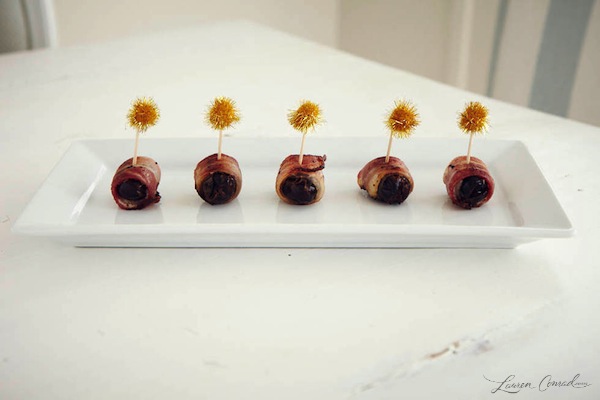 If you're bringing them to a party, cook them first, and then reheat them in the oven for a few minutes or pop them in the microwave once you arrive. Either is fine!
To add a little extra flair to your dates, stuff them with goat cheese or blue cheese before wrapping them in bacon… Can you say decadent? Wow. But oh-so-good.
Do you have a simple side dish or favorite appetizer that you like to whip up for the holidays?
If so, share your dish in the Recipe Gallery for a chance to be featured on the website. Click here to learn how to submit your recipe.
Happy cooking!
XO Lauren
P.S. If you are vegetarian, this can be made with soy bacon, too!
Photos:Christopher Patey for LaurenConrad.com