If you've spent some time on Pinterest you may already be aware of the fact that practically anything can come in jar-form these days…including thoughtful holiday gifts. Last year I blogged about a very sweet jarred idea and this year I decided to put a new spin on it: Gingerbread Cookie Mix in a Jar. Here's the jar I made:

To make your own, follow the directions below. Once you've layered the ingredients into a jar, tie it off with a bow (I used bakers twine paired with a little tinsel and a cinnamon stick) and a tag with cooking instructions and voila—you have yourself a lovely holiday gift that's perfect for family, friends, or even co-workers…
Gingerbread Cookies in a Jar
Recipe via AllRecipes.com
Ingredients
2 cups all-purpose flour
1 teaspoon baking powder
1 teaspoon baking soda
1 ½ cups all-purpose flour
1 teaspoon ground cloves
1 teaspoon ground cinnamon
1 teaspoon ground allspice
1 cup packed brown sugar
2 teaspoons ground ginger
Instructions
In a medium bowl, mix together 2 cups of flour with the baking soda and baking powder.
In a separate medium bowl, mix together 1 ½ cups of flour with the ginger, cloves, cinnamon, both sugars, and allspice.
Layer the two mixtures (starting with the flour-baking soda + powder mixture) into a 32 ounce mason jar.
Pack ingredients tightly and seal.
Attach a card with the following instructions (or simply print out the card below):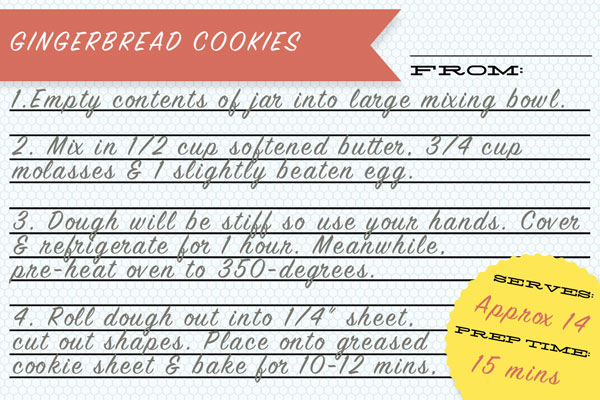 And there you have it. If you have a fun "in a jar" gift idea, share it in the comments below.
Are you going to give this DIY a try?
Be sure to check out our Holiday Gift Guides for more ideas too!
XO Lauren
Recipe card background via Love The Grows