It's November. Which means it's time to dust off your favorite pair of boots, unfurl your favorite scarf, and cozy up in layers of autumnal attire. While most people would think that the fall season means that your wardrobe is limited to shades of grey, matte blacks, and warm burnt hues—I beg to differ. This month I'm showing you 10 fresh ways to add touches of color and style your look this November: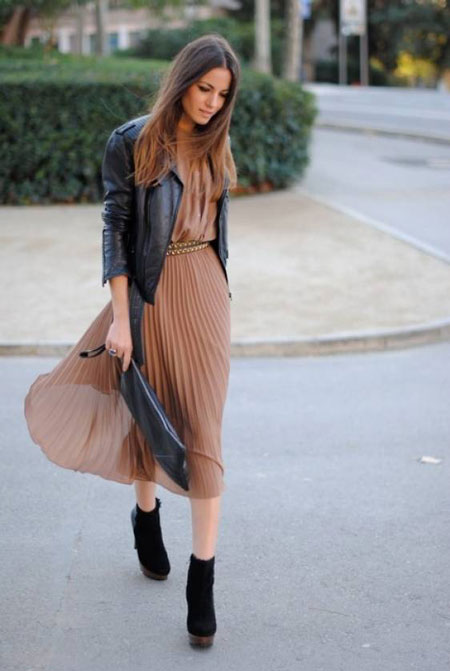 Play with pleats. Since fall is all about texture, try adding pleated pieces to your look. Whether it's an accordion skirt, folded neckline, or a creased pant—this is a simple and quick way to add interest to almost any fall ensemble.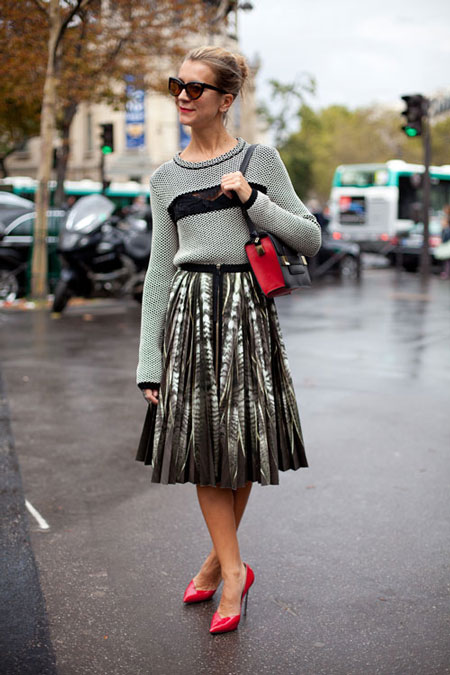 Contrast fall's drab garb with brightly hued shoes! This is a smart way to wear your favorite summery brights well into the fall and winter. Nothing livens up an outfit like a great pair of punchy shoes.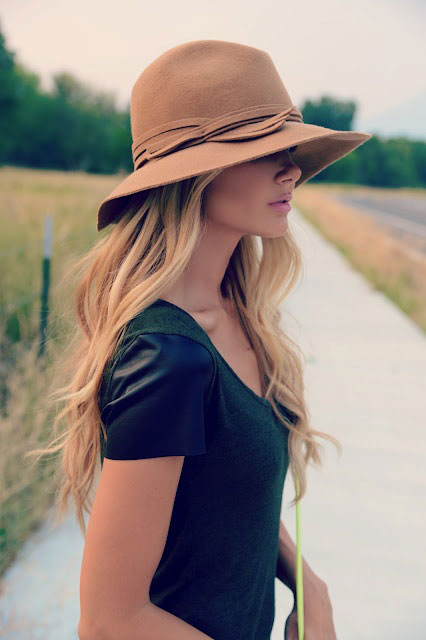 Top off your look with a hat. I've been spotting these cute cloche hats and relaxed brim fedoras almost everywhere. I love the laid back bohemian feel they lend to fall's structured coats and ultra-femme silhouettes.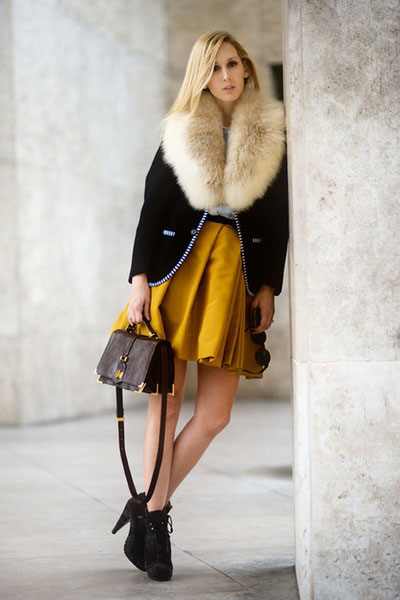 Add a faux fur collar. This touch of luxe is a great way to update your fall closet from years past. Layer one on over your favorite pair of leggings and pair it with a flirty tunic for an on-trend outfit that's sure to stop passersby in their tracks.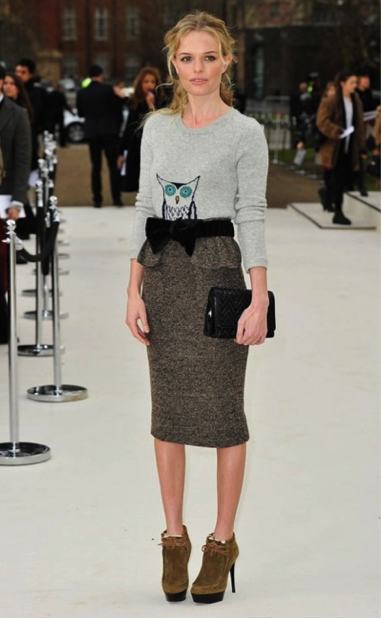 Get kitschy and mix in novelty pieces such as a sweet fox face sweater (I saw a cute one recently at J.Crew) or an owl print top like Kate Bosworth did in the above photo. Fashion is meant to be fun.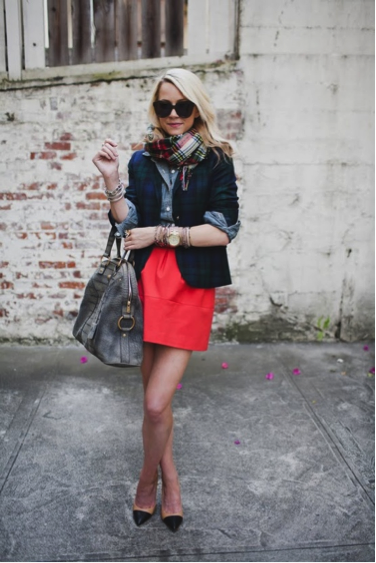 Go mad for plaid. Okay, maybe not mad but don't be afraid to add it into your look for some added color and intrigue. I love the way this style blogger twisted on a plaid scarf to offset her bright skirt and play off of her plaid jacket.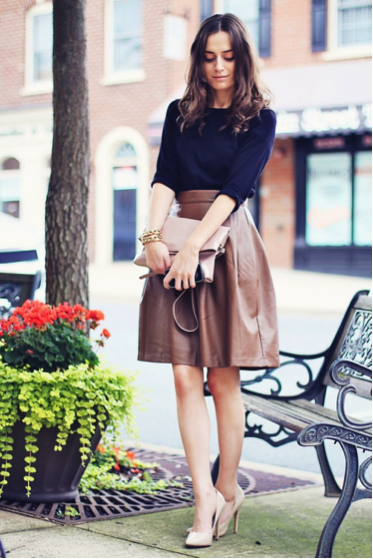 Make a statement with leather staples like this full leather skirt. I love the contrast between leather-like materials and soft, cozy cashmeres and knits. Something about the pairing just screams fall…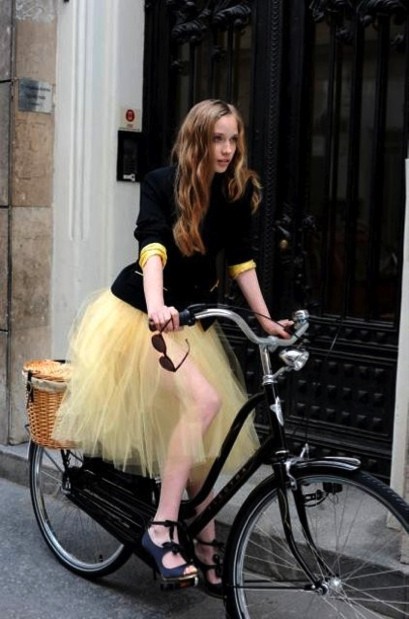 Try tulle. This may be one of the most intimidating trends, but "tutu" inspired skirts are having a moment. To wear this trend without looking like an overgrown ballerina, pair the skirt with a fitted blazer and dainty heels with a close-fitting camisole.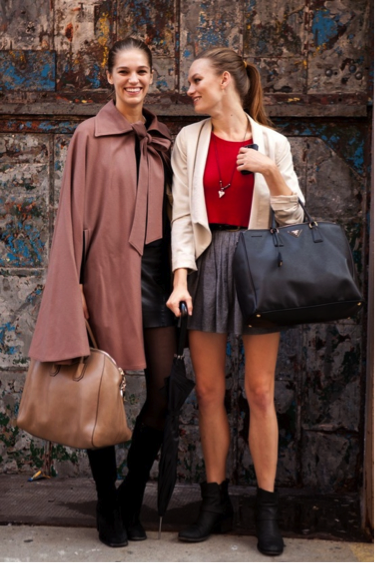 Grab a doctor (as in the bag). Top handle bags are very in again. I love them because they have a 50s vibe and I adore the structure as well. Big or small, they are a sure style bet for fall.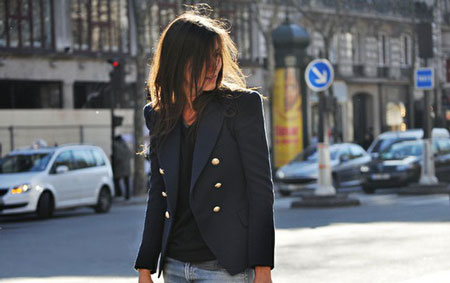 Mix and match navy and black. Whoever said that wearing navy and black together is a fashion faux pas was very wrong. Navy and black compliment one another beautifully and I think it's a winning combination that more people need to embrace. Plus, navy is a nice way to keep your favorite black pieces feeling fresh during fall and winter.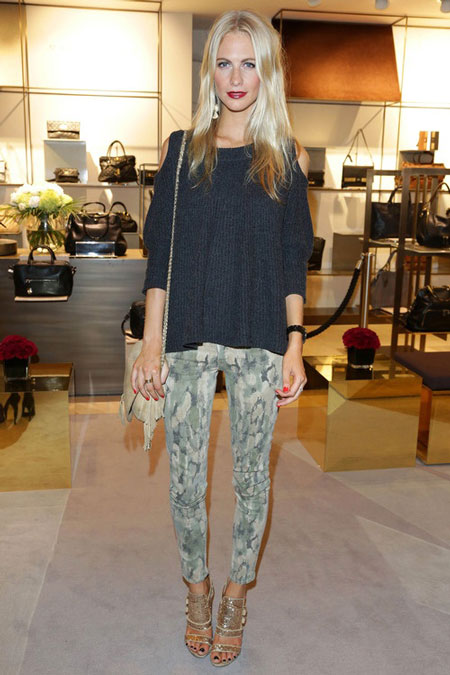 Don't be afraid of printed pants. I've noticed quite a few comments mentioning this trend. Printed pants are great so long as you keep the rest of your look very simple and sleek. If you ask me, I think they are a do.
Are you going to give any of these style ideas a try?
If you do give one a go, be sure to upload a photo of your outfit to your LaurenConrad.com profile and share the image link in the comments below. Who knows…I may feature you as my next Chic of the Week! (For more details on how to upload and share photos, click here!)
XO Lauren
Photo Credits: Style Caster,  Diego Zuko, Jak and Jil, TheyAllHateUs, Atlantic-Pacific, Classy Fabulous, Pinterest, Refinery 29, Jak and Jil, Getty, hat photo by Kate Lovell via Barefoot Blonde