Between the fast approaching holidays and the cooler weather, it's no secret that staying in shape during the fall and winter seasons can be a challenge. Just because it's cold out doesn't mean you can't work on your fitness. Luckily there are plenty of ways to work it out in the comfort of your own home. All you need is a little bit of space (enough to do some pushups and jumping jacks) and a little bit of time.
To get you going, I asked my trainer, Jarett Del Bene, to map out my typical 30-minute workout. And to keep you motivated and moving, my bestie Jilly made a great 30-minute workout mix for you to listen to while you sweat it out! Check out the workout below, turn up the volume on Jilly's mix, and get excited to keep your abs toned throughout the holiday season…
Here's how to do each move in case you're not sure how:
Even if you follow my tips on surviving the holidays without gaining weight, keeping your physique toned and flab-free is no easy feat. Be sure to squeeze this workout into your schedule three times a week and follow a healthy, balanced diet to keep your waistline in check.
Don't forget to check out Jilly's playlist so you can listen to it while you do this workout! Click the box below to listen now: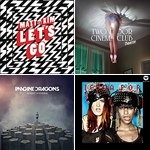 Are you going to give my 30-minute workout a try?
What's your favorite way to stay active during the colder months when exercising outdoors isn't an option?
For more of my tips on staying fit and eating healthy, scroll through the Health and Fitness sections here on my site.
XO Lauren
P.S. For daily fitness tips, be sure to follow Jarett on Twitter @JarettDelBene. Also, if you're feeling really motivated, check out my 7 Days to Skinny Jeans plan!
Photo: LaurenConrad.com
You might also like…
Slim Tip: Boost Your Metabolism
Dined: My Favorite Simple Salads
Tuesday Ten: Foods for Heavenly Hair
Shape Up: Portion Control