Intricate nail art has been stealing the show in the beauty scene as of late. And while we can all appreciate a crazily detailed mani, what we love most are lovely manicures that are easy enough to do ourselves. When we were browsing around LaurenConrad.com, we came across Stacie's profile and discovered that getting gorgeous nails is quite simple! Congrats, Stacie… We loved your modern classic mani so much that we picked you as our newest Chic of the Week!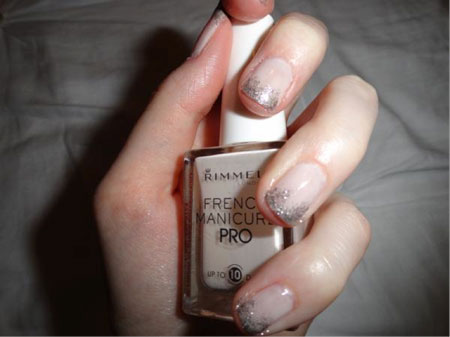 How lovely are Stacie's light pink nails with sweet sparkly tips? They fit the LaurenConrad.com aesthetic pretty perfectly, if you ask us. Here's how we would get this gorgeous mani:
1. Paint your nails with 2 coats of soft pink or nude polish and let them dry.
2. Using a glittery polish, create a gradient effect starting with the tips of your nails and fading out into the middles. We suggest adding a few extra coats of glitter polish on the tips of your nails to make it look ombré. You can also pour out a little glittery polish onto a paper plate and use a makeup sponge to dab on the glitter.
3. Finish it off with a clear top coat, and…voila—you're done!
This mani is so easy that you can recreate it in a snap and the finished product will look like it took you a lot longer than it actually did. Just one warning: It may result in an overabundance of compliments.
Congrats again to our newest Chic of the Week, Stacie!
Do you love this sparkly mani as much as we do? Will you give it a try?
Upload photos of your favorite manicures and leave the links in the comments below.
XO Team LC