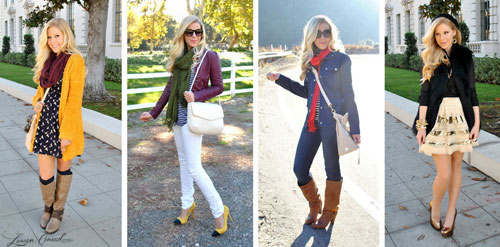 It's no secret that I am a serious shoe-a-holic. The mere sight of a fabulous heel or eye catching boot instantly sends my heart aflutter. While some may find peace counting sheep to help them fall asleep, I usually find myself busy counting a fabulous array of Louboutin's and Manolo Blahnik's that I can only dream of owning. With summery wedges and neon sandals officially pushed to the back of my closet, it's time to fill the space with four eye catching shoes that I simply couldn't conquer fall without. It's important to remember that the perfect footwear is the cherry on top of your layered looks, so be sure to put your best foot forward this season by wearing some of fall's hottest shoes. Below are my four favorite styles of the season.
Riding Boots
A new pair of luxe boots is the ideal way to kick off fall, even if the weather is refusing to act accordingly. My favorite boot this season is hands down the riding boot. This equestrian inspired style looks great when paired with trimmed blazers and skinny jeans for a chic fall ensemble. For a comfy transitional look, try layering your riding boots over a fun pair of boot socks and pairing them with a dress. Lauren even deigned a pair for her fall collection at Kohl's that I'm totally in love with.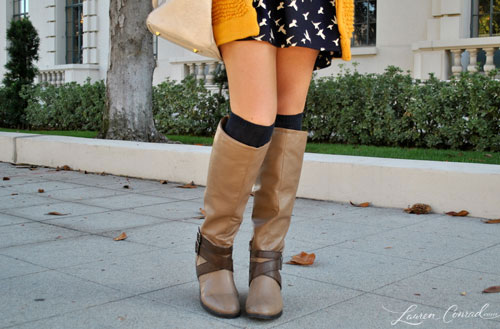 Pointed Toe Heels
This season the simple and sleek pointed pump with a cap toe is sending shoe-a-holics everywhere into an accessory induced reverie. From Jimmy Choo to Christian Louboutin, it seems every major shoe designer is creating a slew of pointed cap toe heels. We may not have the opportunity to actually walk a mile in our style icons shoes but this season we can certainly look like we did. For a more timeless take on this trend try rocking a solid colored heel. For an edgy look opt for a metallic cap toe.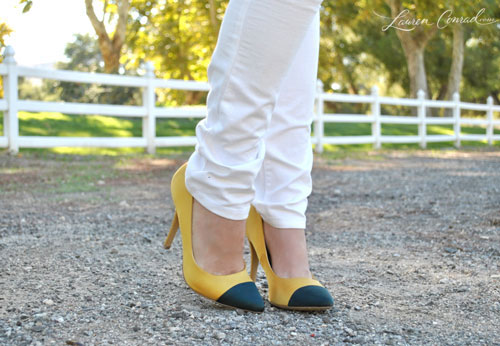 Slouchy Boots
Growing up in the south slouchy boots have always been a fall go-to for me. I pretty much live in them during the months of November and December. We all have those days where the best outfit we can muster up is a pair of jeans and an old sweater that we should have retired seasons ago. By adding a killer slouchy boot to your look you can instantly take your outfit to the next level and lessen the fear of any unexpected run-ins with old friends while home for the holidays. This simple boot will also help balance out the proportions of your top-heavy layered ensembles and keep you warm and looking fab all season long.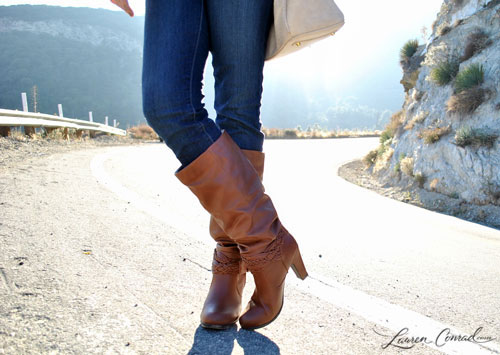 Metallic Pumps
Most of us are already pros at styling various metals from our jewelry collection into our daily ensembles but this season it's all about adding the metallic's to our footwear. Metallic pumps are no longer just for New Years Eve, it's time to dress down this stand out shoe and make it work for all of your upcoming festivities. Bronze pumps shine best when paired with both brown and black colored pieces, while the more versatile silver and gold pumps can act as a glitzy take on a neutral heel.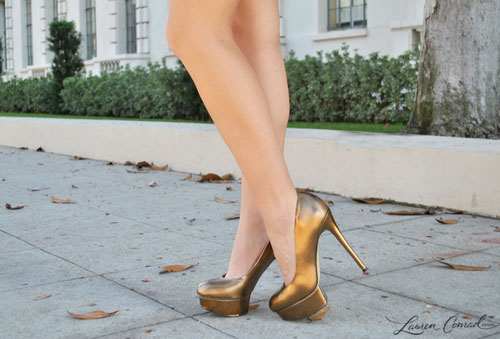 Okay shoe lovers, which of these fall shoes is on your must-have list?
xoxo
Anna
Fash Boulevard
P.S. For more examples of how to style boots this fall check out two of my latest posts here and here.