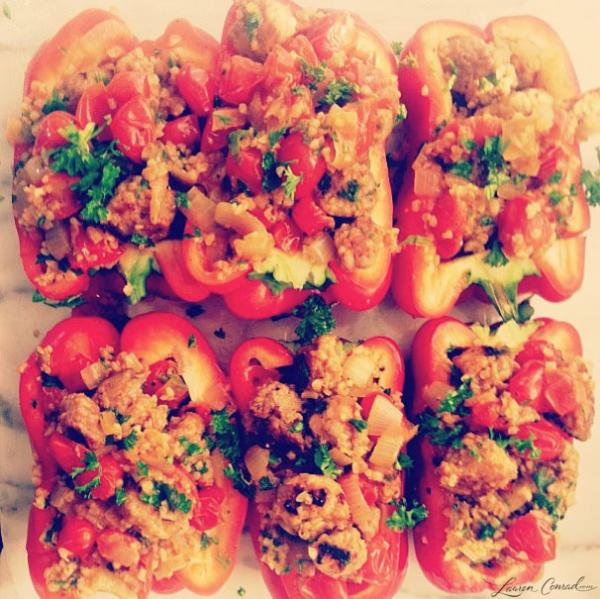 Today I am sharing one of my all-time favorite fall recipes. It's especially great because you can make a batch of them and have the leftovers for lunch during the week. Another plus is that it's a "Dude Approved" meal. Guys love it, which is never a bad thing… . Below is my personal recipe. Give it a try and let me know what you think!
Ingredients


6 large red peppers
4 sausages (chicken, pork, turkey…)
1 large onion
1 cup of halved cherry tomatoes
1 cup of brown rice
2 tablespoons of butter (or olive oil)
salt and pepper
Directions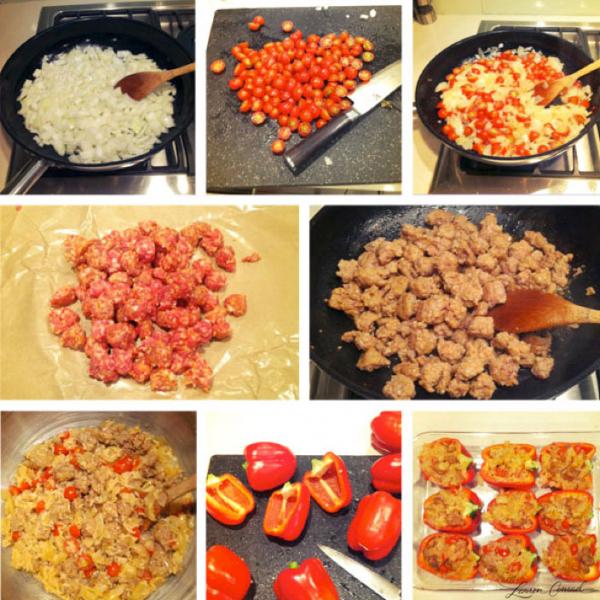 Heat oven to 350-degrees.
Set one cup of brown rice to cook on the stove.
Chop up the onion and put it into a pan along with olive oil and cook on medium high heat until the onion begins to brown (around 5 minutes).
While the onions are cooking cut a cup of cherry tomatoes into halves.
Once onions are starting to brown stir in tomatoes and cook for 2 minutes. Stir constantly. Remove from heat and set aside.
Now remove the sausage meat from the casing and break into small pieces. Cook meat for several minutes (until brown). Meat should be almost completely cooked though.
Combine rice, onion, tomato and sausage pieces in a large bowl and mix together. Add salt and pepper to taste.
Cut peppers in half and remove seeds.
Fill peppers with mixture and set into a glass casserole dish.
Bake for 30 minutes and enjoy!

What's your favorite fall recipe?
I am going to pick five of my favorite submissions to feature on the site throughout the fall season so be sure to upload and submit your recipe (with an original photo that you took of the finished product) for a chance to be included!
XO Lauren
You might also like…
Recipe Box: Easy Apricot Chicken
Good Eats: Overnight Oats
Recipe Box: A Healthy Lunch Idea
Good Eats: The Perfect Sunday Brunch