I hope everyone checked out the first winner of my Halloween DIY Costume Contest, Breanna's Jack-in-the-Box costume. Today I am excited to announce the second winner… Congrats to LaurenConrad.com member Kaycee Radjewski, who submitted the cutest 50 Shades of Grey-inspired costume. Not only did her costume turn out cute as pie, the idea behind it is so creative and in-tune with 2012's hottest book. (I love topical costumes like this, don't you?) Without further ado, here is Kaycee's tutorial on how you can make your own 50 Shades-inspired costume.
XO Lauren
50 Shades of Grey Costume
Hi everyone, it's Kasey. When deciding on my Halloween costume this year, I wanted to come up with something that has not been done before. I began to think about what was popular this past year and 50 Shades of Grey popped into my mind. I tried to think of a person from the book that I could dress up as, but that proved to be too difficult, so I decided to do a literal interpretation of 50 Shades of Grey! Even if you haven't read the 50 Shades trilogy, chances are you have heard of it!
Supplies
an old pair of grey dress pants (I thrifted mine!)
sewing machine or needle and thread
½ yard of grey sparkly tulle (for a more voluminous skirt, but one full year of tulle)
50 different grey paint samples (most home improvement stores will give them to you for free or for a few dollars)
scissors
seam ripper
Instructions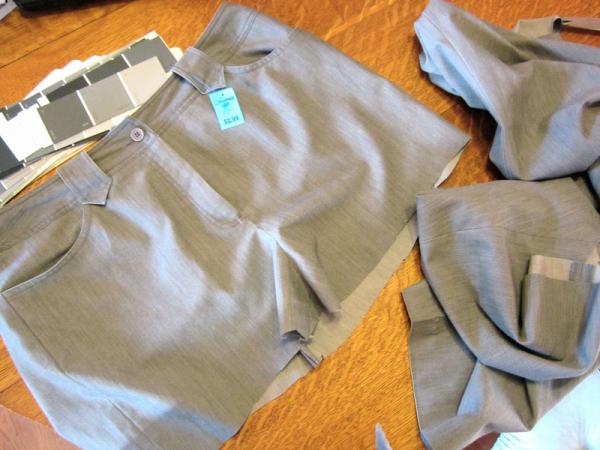 Step 1: Cut both of the legs off your pants so you are essentially left with a skirt.
Note: Steps 2-4 will explain how to make ruffles from the leg pieces that you just cut off in Step 1. If you prefer, you can also make the ruffles out of any grey fabric of your choice!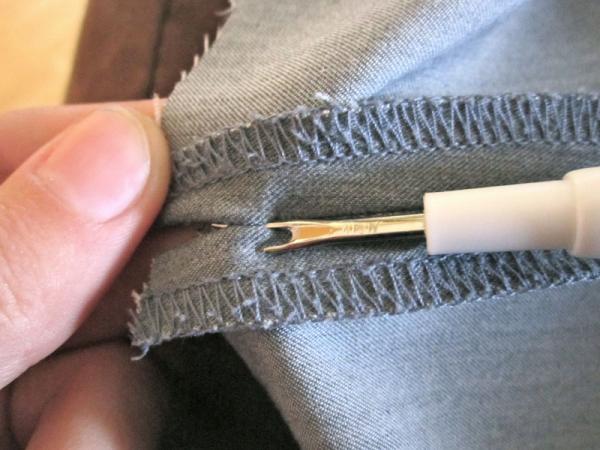 Step 2: Use your seam ripper to remove both seams from your leg pieces. You will now be left with four pieces. Next, cut each of those pieces in half lengthwise, which will leave you with eight pieces. You may need to trim these pieces a little bit so that they are even in width.
Step 3: Next, using your sewing machine (or a needle and thread), sew a ¼ stitch from the top, across each of the eight leg pieces leaving an inch of extra thread on each side for easy gathering. (If you have a hard time gathering, you may try increasing the stitch length, and decreasing the tension on your machine.)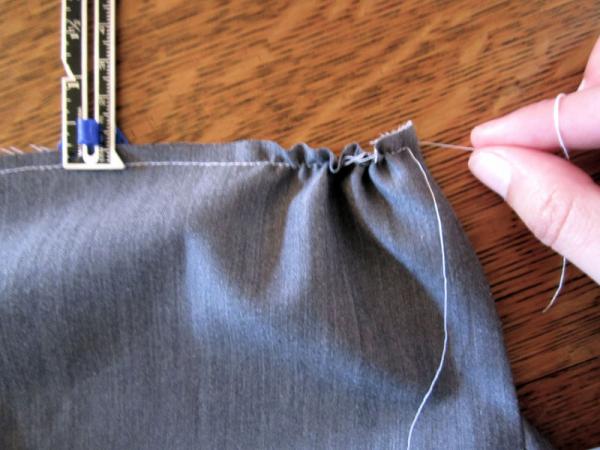 Step 4: Begin forming the ruffles on each piece by gently pulling on the bottom thread (bobbin thread), and slide the ruffled toward the middle of each piece.
The ruffles should look like this:

Step 5: Next, cut your tulle into three 6-inch wide strips that are about 60 inches in length, and repeat the same process in Steps 3 & 4 to create ruffles out of your tulle. (If you choose to buy a whole yard, you should be able to make three more 6-inch wide strips to add more volume to your skirt.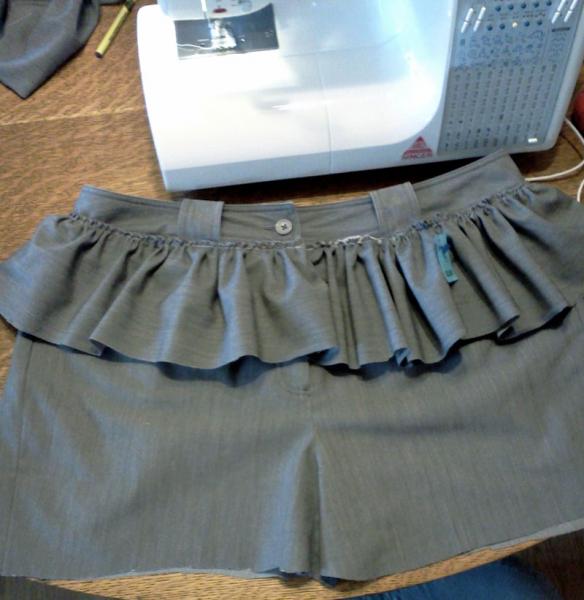 Step 6: Now you can begin to add the ruffles to your skirt piece (from Step 1). I started by pinning three of my solid grey ruffles in one row around my skirt, just below the belt loops. I had to loosen up the ruffles on each piece slightly so that they would fit around the skirt. After they were in place, I sewed them onto the skirt, being careful to avoid sewing on the zipper.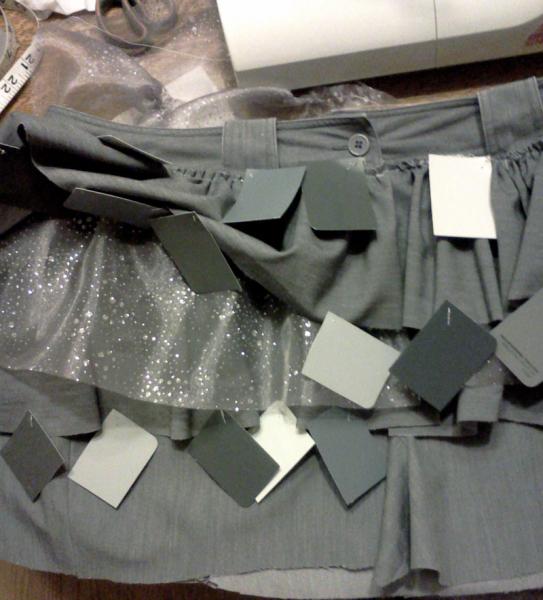 Step 7: Next, sew on your tulle ruffles so you have alternating tiers between the solid ruffles you just sewed on in Step 6. (Note: You will see that I had started to add the paint samples to my skirt BEFORE all of the ruffles were sewn on, I would not recommend this. They will get in the way as you are trying to sew the rest of the ruffles on. I was a little too eager to see what it was going to look like I guess! Wait until all of your ruffles are attached before adding the paint samples.)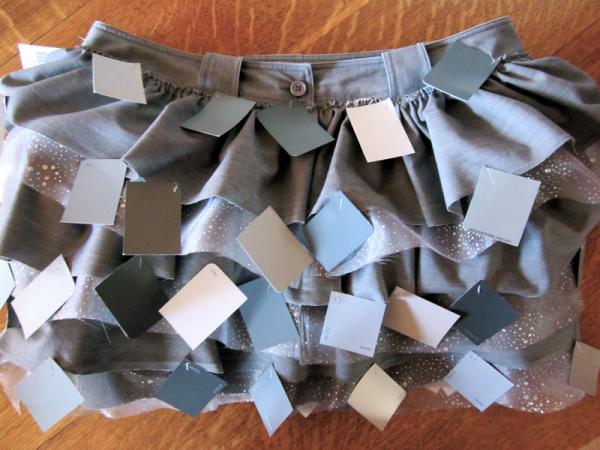 Step 8: Now you're ready for the most important part of the costume— adding the 50 shades of grey!! I cut my paint samples into individual squares and spaced them out along the edge of each ruffle (as you can see, in the above picture!). I began to hand sew each one on by hand, and it was taking forever, so I tried using my machine to sew them on and it worked great & was much faster!

The rest of the costume can be open to your own creativity, but make sure everything is grey! I went with grey leggings, grey booties, a grey headband, and grey makeup! I also added a pair of plastic handcuffs (bought from the dollar store) to one of the belt loops as a little extra clue to the costume. The shirt I am wearing displays a quote from the 50 Shades books. This "Laters Baby"shirt was purchased from Etsy.com this past summer, and happened to work perfectly with my costume! A plain grey shirt would also work just fine (and you could even write the phrase on your shirt too using some t-shirt paint or a marker)! Use your own creativity and have fun with it!
xoxo
Kaycee
Are you going to give this costume a try?
For more Halloween fun and costume ideas, click the photo below and scroll down!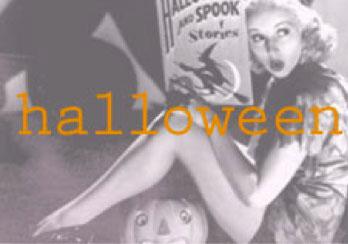 You might also like…
10 Hallowee Costume Ideas
October Styling Ideas
Tuesday Ten: Crafty & Creative Halloween Costumes
Halloween DIY: Rock Paper Scissors Costume