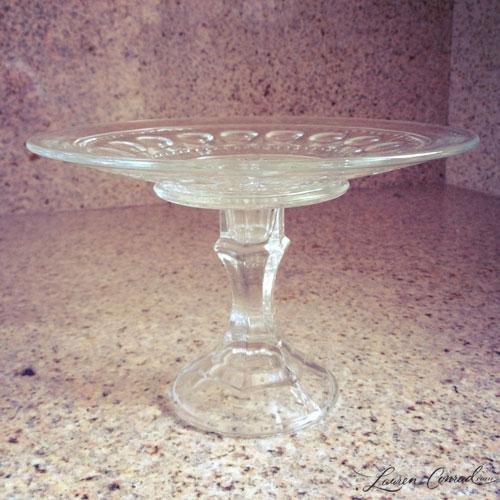 If you're thinking about giving away old glassware that might not match the rest of your home decor, hold that thought: this Crafty Creation will inspire you to make something new out of your mismatched items. My DIY cake stand is not only simple to make, it's versatile too. You can give it as a gift or use it to show off your baked goods, Halloween sweets, savory appetizers, or even jewelry and candles. Find out how to make this decorative display by watching the video below:
To recap, here's what you will need:
a plate
base of your choice (candle holder, martini glass, ramekin etc.)
industrial strength glue
The steps are simple and the end product is too sweet to pass up. I love the idea of spray painting the finished piece to make it one solid color.
What will you display on your DIY cake stand?
Upload photos of your creations to your LaurenConrad.com profiles, then copy and paste the link in the comments below. I'll take a peek and feature some of my favorites in a Member Spotlight post!
P.S. If you're looking for a sweet treat to display on your cake stand, browse through the DINE section on my website for some healthy and delicious recipes.
XO Lauren
You might also like…
Member Spotlight: Ashley's Awesome Decor Ideas
Crafty Creations: Fabric Stool
Burn Notice: My Favorite Candles
Crafty Creations: Detachable Shoe Bows