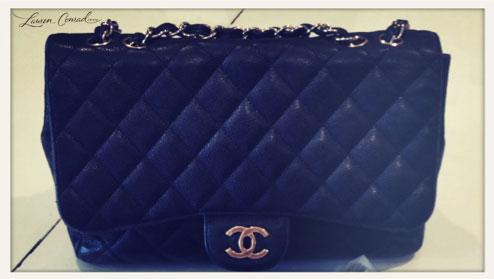 A lady's purse is her sanctuary. It's a place where all of her knickknacks and daily deeds are stored away from the world. And if you ask me, the contents of one's bag can tell you a lot about its owner. Since I've had a lot of people request a What's in My Bag? blog I've decided to finally clear out the crumpled receipts, stow away the spare change, and show you guys what's actually in my bag: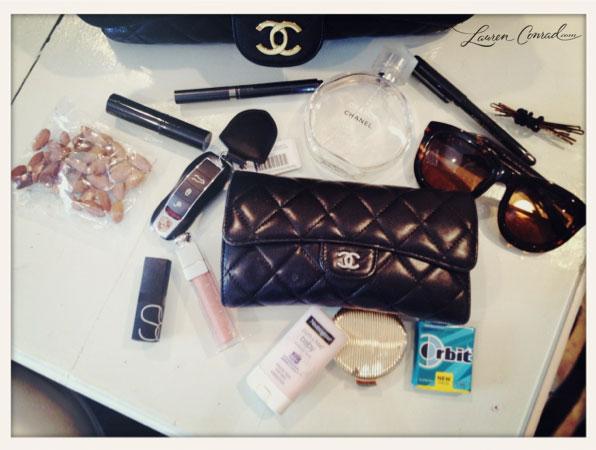 Almonds. To prevent a case of the hangries.
Concealer. I never leave home without my Cle' de Peau.
Car keys. I live in LA, it's kind of a given…
Lipstick. I like to keep a tube of red lipstick in my purse. Never know when you might need to add a little color to your pout during an impromptu outing.
Lip gloss. I love Dior Addict Ultra Gloss. It leaves my lips with a subtle, non-sticky shine and the color is close to my natural shade, which I like.
Lip balm. Is there anything worse than finding yourself with chapped lips and nothing to salvage the situation? I always have some form of lip conditioner with me at all times.
Wallet. Another essential.
Perfume. Chanel Chance is a year-round favorite for me when it comes to perfumes. I keep a bottle with me since I tend to reapply when the course of my day changes (such as post-work drinks or a surprise dinner date). For tips on picking the right perfume for you and making it last, click here.
Sunglasses. The bigger the better.
Pen. I feel like it's more hygienic to use your own pen, plus I like how this one writes. I'm not a germaphobe, I just think it's a good idea…
Hair goodies. I always keep a bunch of bobby pins tied together with a hair tie. I cannot even begin tell you how many times this little bundle has saved me from serious hair hang-ups.
SPF. You guys know how I strongly I feel about the importance of wearing sunscreen. It's the key to smooth skin and a (somewhat) wrinkle-free future.
Compact mirror. Another must.
Gum. I always like to keep a pack in my bag.
I suppose the contents of my purse would reveal that I am a beauty loving health nut 🙂 Literally.
Now it's your turn to show off the contents of your purse. Snap a photo and upload the image to your profile page and leave the image link in the comments below for a chance to be featured on the site.
What do the goodies inside your bag say about you?
XO Lauren
You might also like…
Chic Peek: My New Fall Collection
Fall in Love With Polka Dots!
Have a Blog Request? Tell Us!
Accessory Report: Rock Candy Jewelry