While bags and satchels are lovely, there is another carryall that I'm loving as of late: the daytime clutch. Whether I'm off to an afternoon event, a lunch meeting, or even running a few errands, an oversize clutch is a simple way to give a basic look a major dose of fashionable allure. When using a clutch during daylight hours, I prefer bags in neutral tones with some texture. I especially love to carry a clutch when I know that I am going to be out all day and into the night. Clutches transition well into evening settings since they are bit more dressed up and streamlined. They also tend to have less exposed hardware making them easy to mix and match with various outfits.
When I was in Bali I found the perfect envelope clutch. Super simple with clean lines and great texture. Perfection. I loved the clutch so much that I took my own advice and bought it in every color available (which was a total of 4 colors). I use these clutches all the time. They are a nice size, they're comfortable to hold, and they're especially great for traveling since they take up barely any space. That said I don't except all of you to travel overseas to find your perfect clutch. There are plenty of lovely options online or even lurking in the back of your closet!
If you have an older clutch that's seen better days, all it might need is a fresh coat of paint to instantly revamp it. To learn how to give your old clutch an update, watch my DIY video by clicking here.
Don't have an oldie to turn into a goodie? Here are a few fun transitional ones I found online that you can wear year-round: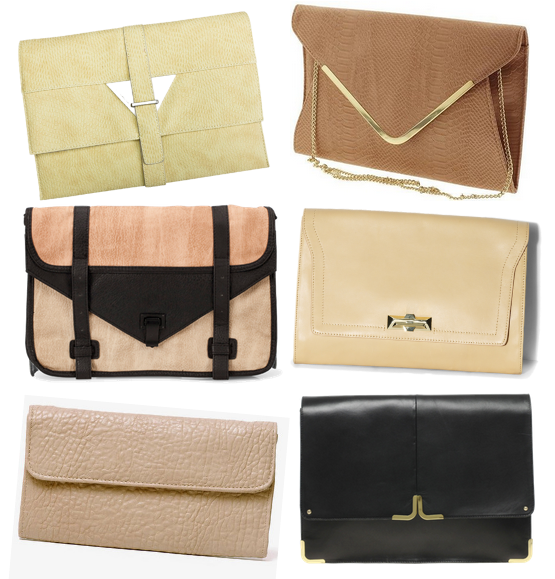 Which clutch is your favorite? Also, are you into this trendy top-handle alternative?
XO Lauren
You might also like…
Tuesday Ten: Fall Booties
Style Guide: How to Dress for Desk to Dinner
Denim Guide: How to Find the Right Fit for Your Figure
Style Guide: How to Work Leather Into Your Look