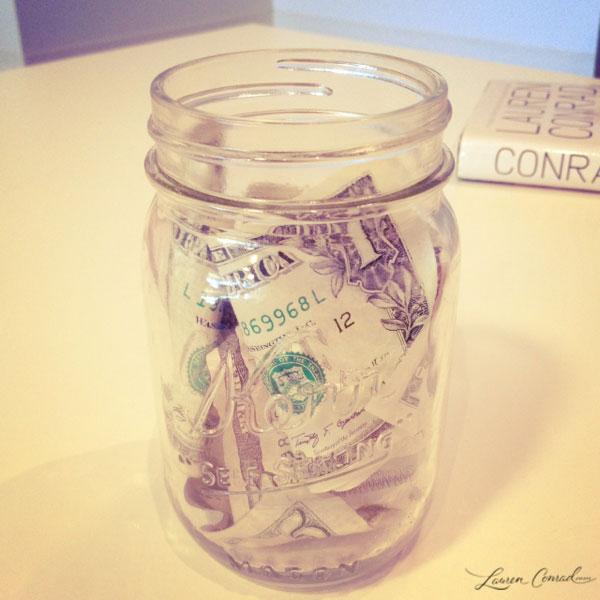 When bikini season is in full swing, it's relatively easy to stay motivated in terms of maintaining your workout regimen. But what happens when the mercury drops? It's easy to lose sight of your fitness goals. During the cooler months I do my best to hit the gym a few times a week and then try to do something active over the weekend (hike, long walk, etc.). Sticking with this schedule is easy for me now that I've been doing it for years. It's a habit. But let's be honest–getting into this grove is easier said than done.
For those of you finding yourself in this apathetic place, do not be discouraged. There are plenty of ways to stay motivated and focused on your fitness goals. Once of my favorite ideas is keeping a Motivational Money Jar.
Here's how a Motivational Money Jar works:
Each time you hit the gym or exercise put one dollar into your jar (if you can, slip $5 in there when you've had a particularly great week). Then, every few months cash in on your efforts. Treat yourself to a new top or even a relaxing spa pedicure.
Keep your jar somewhere prominent where you can see it often. I suggest placing it near your front door or on your bedside table so it can serve as a constant reminder to "pay your dues."
I really love this idea. It's a fantastic way to stay motivated and redeem a double payoff for all of your hard work (such as a new top and newly toned arms to go with it). Literally!
Are you going to give this Motivational Money Jar a try? Do you have any tips for staying focused and motivated on your fitness goals?
XO Lauren
You might also like…
Shape Up: Portion Control
Tuesday Ten: Best Of…
Friday Favorites
Shape Up: How to Maintain Your Bikini Bod