Here at LaurenConrad.com we get excited when our amazing members upload delicious food photos and recipes because it inspires us to get creative in the kitchen. In the past, we've seen some sweet treats, healthy indulgences, and holiday confections. But our recent favorite discovery satisfies our savory cravings and it's so healthy that it won't induce even the tiniest bit of diner's remorse. It's pretty obvious that Pretty3tweety's vegetable millet has our name written all over it! This dish is packed with protein and fiber, which will fill you up and kick your unhealthy cravings to the curb. Plus, it's easy to make. Since our focus this fall is keeping our beach bods in tip-top shape, this recipe is completely irresistible.
Ready to give this dish a try? Here's how to cook it up…
Vegetable Millet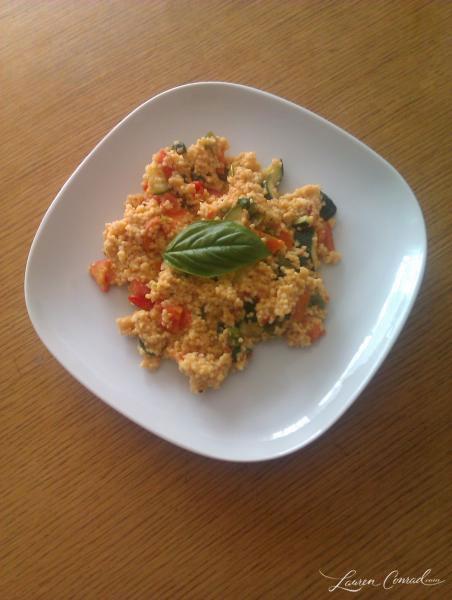 Ingredients:
Millet
Salt
Onions
Assorted vegetables
Tomatoes
Garlic
Cayenne pepper
Parsley
Basil leaves
Steps:
Pour 2 cups of water and a pinch of salt into a pot and bring to a boil
Add the millet to the pot and cook until all the liquid is absorbed
In another skillet, saute onions and your favorite vegetables in little olive oil until soft
About 5 minutes before your vegetables are cooked, add fresh tomatoes to the mix for extra flavor
Then, mix the millet and cooked veggies together
For seasoning, add garlic, salt, cayenne pepper, parsley and basil leaves
Now, go ahead and enjoy your healthy eats!
This recipe is so simple and it's a great option for lunch or dinner. Try making your vegetable millet the night before, refrigerating it, then packing it to throw over a salad at school or work the next day. One day, we even packed it into a red bell pepper and brought that to the LC offices for lunch. Let's just say it did not disappoint…
Are you going to try this recipe?
XO Team LC
You might also like…
Good Eats: Overnight Oats
Sweet Tooth: S'mores Bars
Recipe Box: Blueberry Crisp
Slim Tip: Why Break the Fast?