These recipes are from our friends at Martha Stewart Living. Once a month we'll share our favorite Martha Stewart Living recipe here on LaurenConrad.com for all of you to try. Today's recipes are perfect for Sunday football with the boys…Let's just say these bites will go straight to his heart. Enjoy and happy cooking!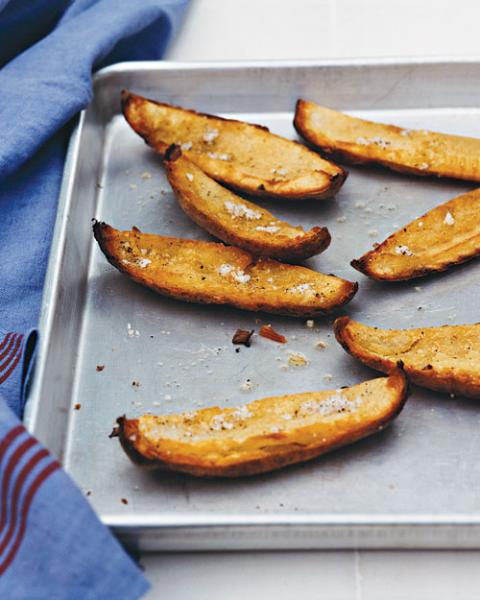 Serves 4
Ingredients
4 medium russet potatoes (about 2 pounds)
1/4 cup extra-virgin olive oil
Coarse salt and freshly ground pepper, to taste
Directions
Adjust oven racks to highest and middle positions. Preheat oven to 450 degrees. Pierce each potato 8 times with a fork. Place directly on middle oven rack, and bake until tender when pierced with a fork, about 40 minutes. Let stand until cool enough to handle, about 5 minutes.
Cut each potato in half lengthwise, and use a small spoon to scoop out insides, leaving about 1/4-inch shell all around. Reserve insides for salmon cakes with sorrel sauce. Slice each potato shell in half again lengthwise to make 16 wedges, and place them on a baking sheet.
Combine oil, salt, and pepper in a small bowl, and brush on all sides of potato wedges. Bake on highest rack until crisp and edges are golden, about 20 minutes. Season with salt. 
All-American Buffalo Chicken Tenders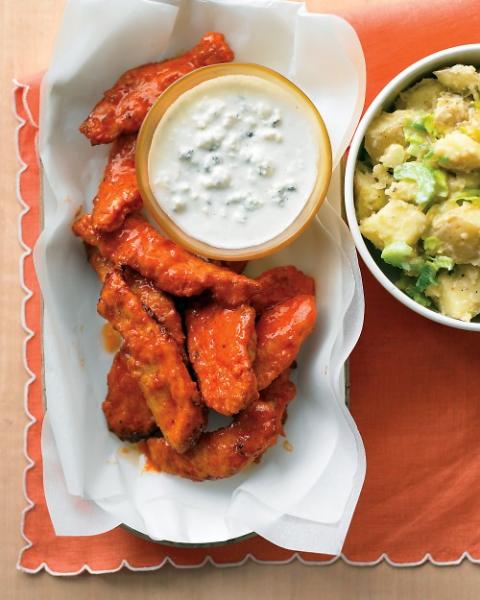 Serves 4
Ingredients
1 cup crumbled blue cheese (about 4 ounces)
1 cup low-fat buttermilk
Coarse salt and ground pepper
1 cup all-purpose flour
1 1/2 pounds chicken tenders
1/2 cup vegetable oil, such as safflower
1/3 cup hot sauce
2 tablespoons melted butter
 Directions
Preheat oven to 250 degrees. Place a wire rack on a rimmed baking sheet, and transfer to oven. In a medium bowl, stir together blue cheese and 1/2 cup buttermilk. Season dip with salt and pepper, and set aside.
Place flour and remaining 1/2 cup buttermilk in separate medium bowls; season with salt and pepper. Set out another rimmed baking sheet alongside. Dip chicken in buttermilk (allowing excess to drip off), then in flour (shaking off excess); place on sheet.
In a large skillet, heat oil over medium-high. Working in batches, fry chicken until golden brown and cooked through, 3 to 4 minutes per side. Transfer to rack in oven to keep warm.
In a large bowl, stir together hot sauce and melted butter. Add chicken, and toss to coat. Serve tenders with blue-cheese dip.
 What's your favorite appetizer for football season?
Special thanks to Martha Stewart Living for sharing this fabulous recipe with us today!
XO Team LaurenConrad.com
You might also like…
Good Eats: The Perfect Sunday Brunch
Recipe Box: Blueberry Crisp
Sweet Tooth: S'mores Bars
Good Eats: Overnight Oats
Source: Martha Stewart Living, March 2008, Everyday Food, May 2008