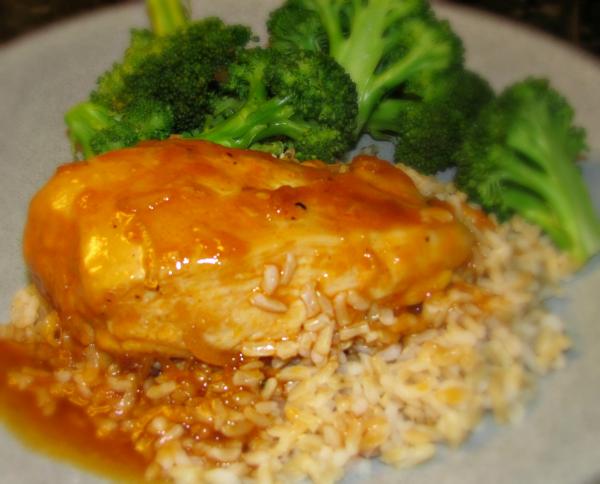 After a long day at the office, all we want in the world is a yummy, easy, and quick home cooked meal. When we spotted this Easy Apricot Chicken recipe from LaurenConrad.com member Lindsey of Umbrella Drink, we knew our post-work prayers had been answered. Lindsey inherited this recipe from her husband's family and says that "it is the perfect weeknight meal" and makes for great leftovers (lunch anyone?). Our favorite thing about this recipe is that the prep time is only five minutes. Win! Simply prep the chicken when you get home, pop it in the oven for 40 minutes while you settle in and change clothes and before you know it–you have yourself an easy-peasy meal fit for a queen (or king). Here's how to make it:
Easy Apricot Chicken
Serves 4
Ingredients
1 pound of chicken
1 Lipton Onion Soup packet
1 jar or apricot preserves (about 1 cup)
1 bottle of Russian Dressing
Directions
Pre-heat oven to 375-degrees
Mix the onion soup packet, apricot preserves, and dressing in a bowl. Beat the clumps out with a fork.
Pour the mixture into a baking dish. Down the chicken in the mixture.
Cook for 40 minutes or until your chicken is cooked all the way through.
Serve over brown rice or quinoa with a side of veggies and enjoy!
We love this recipe and already gave it a try. It totally lived up to our expectations and it's become a staple in our weekly recipe repertoire. (By the way, our boyfriends loved it!)
Are you going to give Lindsey's recipe a try?
If you have a great dinnertime recipe, be sure to upload and submit it via your LaurenConrad.com profile page. Click here to learn how!
XO Team LC
You might also like…
Good Eats: Overnight Oats
Recipe Box: Skinny Pizza
Good Eats: The Perfect Sunday Brunch
Tuesday Ten: Foods for Heavenly Hair
Photo: Umbrella Drink