Just as we did earlier this year, Team LC took to the streets of NYC donning stilettos with our trusty SLR in hand for New York Fashion Week to give you a behind-the-scenes look into all the happenings in and around the tents at Lincoln Center. In anticipation of Lauren's first ever Fashion Week Diary post tomorrow, we thought it would be fun to satisfy your Fashion Week sweet tooth by giving you an exclusive peek of what went on behind the runway at BCBG… Without further ado, here is your VIP backstage pass to the BCBG Spring 2013 runway show:

Inside it was a total mad house. Photographers' cameras flashing in every corner, makeup artists scrambling around while hair stylists tugged and tamed the models' hair. Luckily, even amidst all this insanity, we were able to get the inside scoop on the hair, makeup, nails and more…

Val Garland, the lead makeup artist from Temptu, told us the inspiration behind the makeup look: "Our inspiration was [sic] Kate Moss–you know, it was kind of a cool girl look. It's after dinner–a little bit later and our girl has been dancing and her makeup is lifted. Basically, we were going for a 'last night's leftover makeup' look. It's a bit smudgy, lots of mascara." Although the makeup had an undone vibe, it was surprisingly fresh and luminous with the perfect dose of grungy glam. Garland added, "Sometimes when your makeup is little bit wrong–it looks much better, much sexier." And if you ask us, much more effortlessly cool.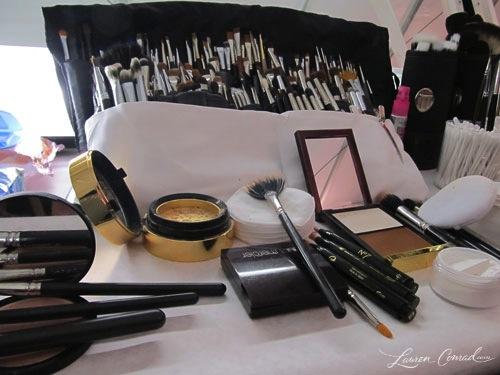 Next we got the lowdown on the hair, which was orchestrated by head hairstylist Laurent Philippon of Bumble & Bumble. Like the makeup, the hair was also a version of "last night." To create a "well-kept" but perfectly undone look, stylists blow-dried the models' hair using thickening spray to add volume. Next, they flat ironed it in sections and then pin-curled it with a slightly off-center part. After about 20 minutes, the stylists pulled the hair down from curlers and finished it off with styling wax and a bit of hair powder for that slightly messy finish.
Lastly, we got all the details on the season's manicures from Roxanne Valinoti of CND. Valinoti said that because the look was so femme fatal, they decided to balance it with a delicate and "understated" nail. To achieve this fresh finish, manicurists applied two coats of CND "Pink Lily," which is a warm sheer nude shade, with a high-gloss clear topcoat. We love this neutral look and cannot wait to give this delicate lacquer a try. Check it out:
Isn't it lovely? While we love Essie's "Mademoiselle," we'd be lying if we said we weren't just a bit excited to try this CND shade…it's kind of perfect.
Aside from all things beauty, we also uncovered and dismissed a few fabled runway secrets…
1. Models do eat! Check out this spread. (It was nearly gone by the time the show started! While the models got their hair and makeup done, many of them munched away on muffins, parfaits, and bagels.)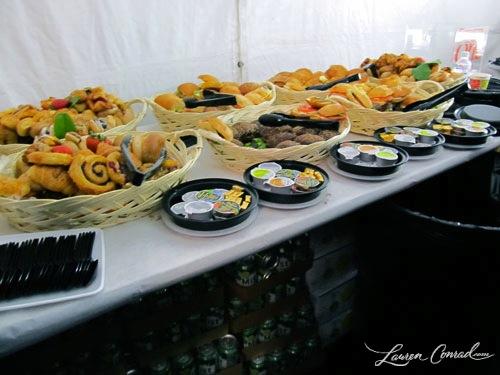 2. Models don't dress themselves. Each model has someone that helps her get dressed…and there are directions on how each outfit is put together.

3. Models have emergencies too. In addition to dressing instructions, each model has a rolling rack with an "emergency kit" hanging from it. Inside the kit: bandages, static guard, grip tape (to prevent any slip-ups), hair ties, makeup remover, cushioned insoles, a protector hood (so the model won't mess up her hair or get makeup on the clothes when dressing), and a lint roller. (Kind of reminds up of Lauren's beaut-E Kit.) Genius!

Once the models are in full hair and makeup and have navigated their way to the dressing racks (with polished nails), they are dressed and then hit the runway…

We hoped you enjoyed this look behind the runway! To see the entire BCBG Spring 2013 collection, click here.
What do you think about BCBG's beauty look? Would you give it a try?
Happy Fashion Week!
And don't forget to check in tomorrow for Lauren's first official Fashion Week Diary post!
XO Team LC
P.S. Tonight is Fashion's Night Out! What are your plans for the big night?
You might also like…
Paper Crown: The Complete Holiday 2012 Lookbook
Tuesday Ten: September Style Tips
Shopping List: Fall Must-Haves
Paper Crown: We're Showing at PROJECT!