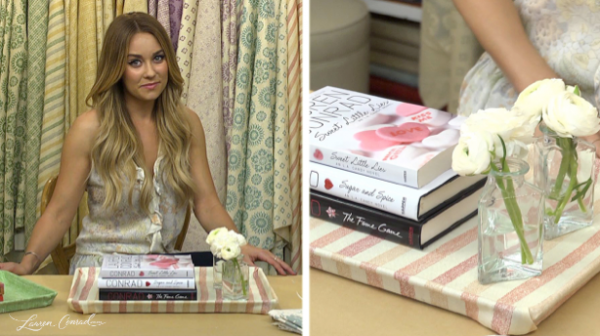 Adding some pretty patterned fabric to different household items is one of the easiest ways to give new life to your old or outdated décor. In last week's Crafty Creations, I attached colorful cloth to a basic wooden kitchen stool. It gave my piece of furniture the fresh new twist it needed. For my newest project, I'm going use a similar method to turn a baking sheet into an adorable decorative tray. This pretty piece is perfect for displaying your favorite candles, flowers and books atop a coffee table. Watch the video below to learn how you can give it a go:
To recap, here's what you will need:
baking sheet
fabric
spray glue
scissors
If you want to try this DIY on a budget, don't fret about spending money on pricey fabric. An old tablecloth, patterned curtains, or even an old dress can be a cool and quirky way to recycle old materials to create something new.
Are you going to give this craft a try?
If you try this DIY, be sure to upload the photos of your decorative trays to the gallery so I can check them out.
Happy crafting ladies!
XO Lauren
You might also like…
Member Spotlight: Ashley's Awesome Décor Ideas
Crafty Creations: Fabric Stool
Burn Notice: My Favorite Candles
Crafty Creations: Cheese Grater Earring Stand