It's pretty obvious that detailed nail art is a beauty trend that is here to stay–for a while at least. Here at Team LC, we love researching crazy nail art and trying out our favorite finds on our own tips and toes. During these hunts, we've found that some of the best inspirations come from our very own LaurenConrad.com members who have truly mastered their polish skills to perfection. To show our appreciation for one member's amazing effort, we've decided to feature her fabulous football manicure as our Chic of the Week.
Congrats, Brittany I., you are our Chic of the Week!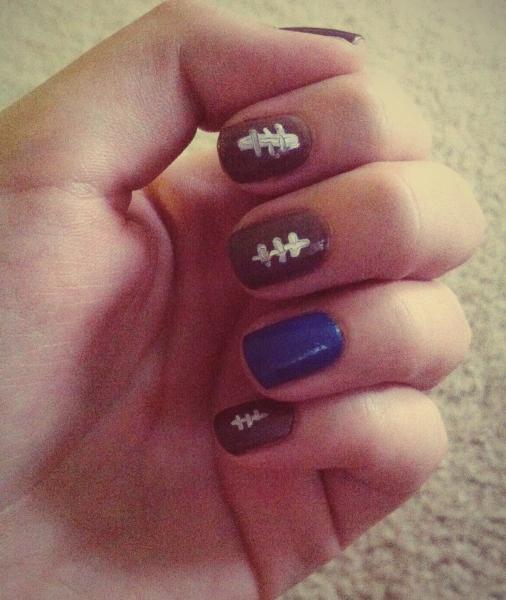 There's no better time to give yourself a football-themed manicure than the autumn, since the sport's season is currently kicking off into full gear. Brittany's nails wowed us because of her attention to detail, the simple yet chic design, and the blue color pop she chose to paint her ring finger. This mani could have been five fabulous footballs on each finger, but Brittany decided to throw a little curve ball into the mix! Brittany, your manicure is truly a touchdown in our book.
Congrats to Brittany, our newest Chic of the Week!
What manicure are you rocking for fall? Upload your photos for a chance to be our next Chic of the Week.
XO Team LC
You might also like…
Member Spotlight: Ashley's Awesome Decor Ideas
Chic of the Week: Haylee's Sweet Style
DIY: Lanyard Bracelet
Friday Favorites