Here at the LC offices, we all get excited when the seasons start to change, and this current summer-to-fall transition we're experiencing is no different. It's just a matter of time before that crisp in the air turns into a chill, the colors of leaves go from green to golden, and our style staples transform from short-sleeved sundresses to more autumn-appropriate options. We had all of these upcoming seasonal changes in mind when we spotted our new Chic of the Week. Her amazing photo has that autumn glow about it, and her classy style is on another level. Amanda K, your style has made a statement in our eyes… Congrats you're our Chic of the Week!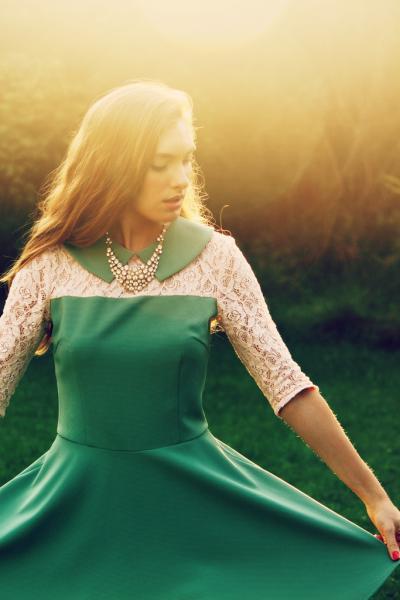 Not only is this adorable outfit a great look for transitioning from summer to fall, it also has a very romantic feel, which we love. The lace details, the Peter Pan collar, the fitted bodice, and the A-line silhouette have us all in awe. But our absolute favorite detail is her sparkly statement necklace. We love nothing more than a fabulous piece of jewelry that takes a look from simple to oh-so-chic.
Congrats, Amanda!
What do you think about Amanda's statement necklace? How are you transitioning your wardrobe for fall?
Think your style has what it takes to be selected as our Chic of the Week? Upload your photos to the gallery or leave the link to your image in the comment section below.
XO Team LC
You might also like…
Chic of the Week: Annette's Street Style
Member Spotlight: Supartita's Earth Day DIY
Chic of the Week: Cristolrom's Dotted Mani
Member Spotlight: International Style