Decorating my place so that it looks cozy and chic is very important to me. But making sure that my place smells heavenly at all times and has the right ambience is the cherry on top of creating a lovely living space. I keep candles in almost every room of my house. I've found that the combination of glowing candlelight and being surrounded by my favorite scents helps me to unwind in a peaceful atmosphere. I also love giving candles for gifts, so these coffee table toppers can really do no wrong in my book. I've put together a little list of my favorite candles to give you some guidance the next time you shop for some new scents yourself…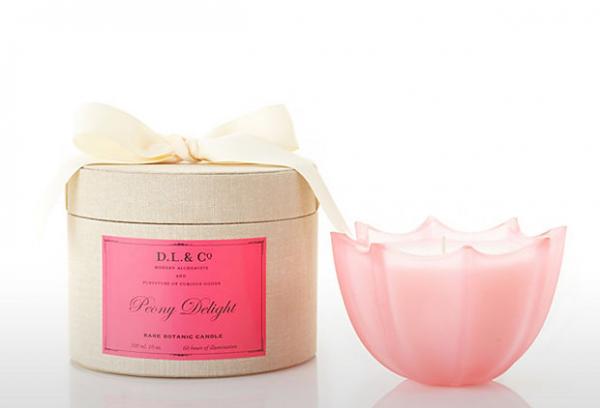 Not only do peony blooms look beautiful, they smell great too. One of my very favorite scents is D.L. & Co.'s candle in "Peony Delight." It isn't too overwhelming, but it's just enough. You can buy it for a steal when it's on sale on One Kings Lane or Gilt. I have mine placed on top of my coffee table books in my office…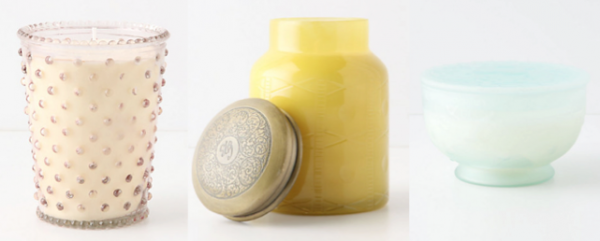 Anthropolgie offers a really great selection candles. When candle shopping, I tend to gravitate toward scents that are a little bit floral, but very fresh and clean. That said my favorites from Anthro include the Simpatico Hobnail Candle in "Honeysuckle," the Capri Blue Candle-In-A-Jar in "Mandarin Mango," and the Gia Candle Jar in "Lychee Blossom." They smell great and they also look really cute when they're clustered together.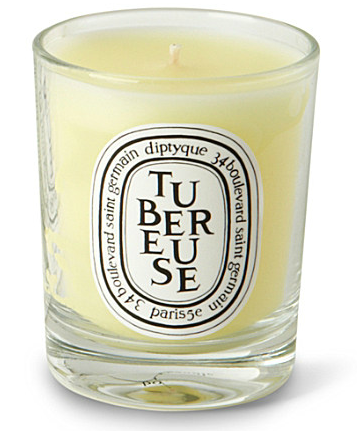 Dyptique candles are a wonderful luxury to have in your home. My favorite scents by this brand are "Tuberose" and "Freesa," but they can be a bit pricey. If you're buying candles on a budget, a good alternative to Dyptique is a brand called Yankee Candles. They smell great and they're also inexpensive.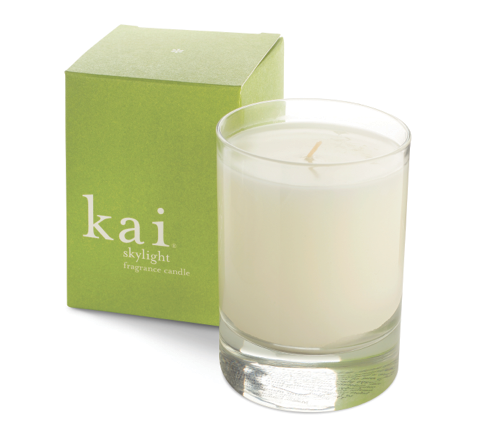 Kai is another brand I love. The Skylight Candle is a blend of soy, palm and coconut wax, and it smells like gardenias (my favorite scent). When I burn this candle it makes me feel like I am on a tropical island. Ahhhh…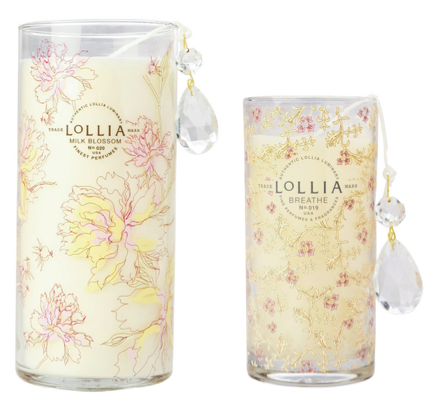 The brand Lollia also makes some great scents, and they look pretty too. I like the "Stacks of Pretty Paper" and "Breathe" candles because they have delicate hints of peony and citrus. Each Lolia candle also has a little crystal charm that adds to the ladylike look, so they are perfect for displaying in your bedroom or make for great gifts.
I always say that some of the best gifts are ones that you can eat, drink or burn, because you can enjoy using them without adding extra clutter to your life. Any one of these candles would be a great treat for a hostess gift, a birthday party, or even a little personal pampering present for yourself. Because who doesn't love a little indulgence?
Have you tried any of these candles? What's your favorite scent?
XO Lauren
You might also like…
Crafty Creations: Bow Lamp
Inspired Idea: Closet Coloring
Room Redux: Update Your Space on the Cheap
Crafty Creations: Crayon Art
Photos: Poppy Talk, One Kings Lane, Anthropologie, Anthropologie, Anthropologie, Self Ridges, Definition Royale, Lollia Life, Lollia Life