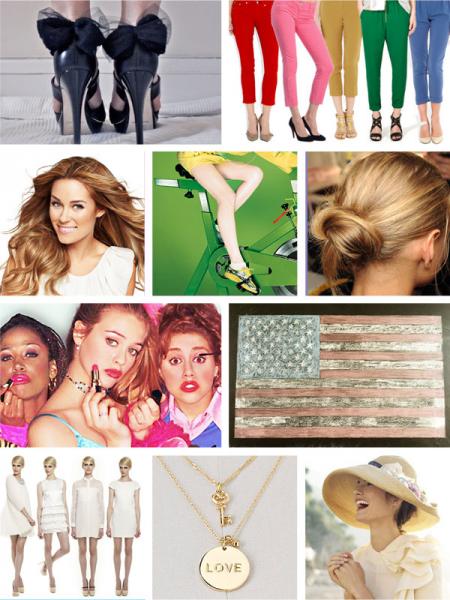 As we approach the holiday weekend we thought it would be fun to take a little stroll down LaurenConrad.com memory lane and highlight 10 of our favorite Tuesday Ten posts from the past year or so… You'll be surprised by how much you might have missed!
Style Q&A This was Lauren's first Tuesday Ten (aw) where she answered a handful of questions for you guys. (Bet you didn't know she has a dinosaur costume in her closet!)
Tress Up! Check out Lauren's 10 favorite updo hairstyles… We're totally obsessed with #6.
10 Ways to Wear a Little White Dress If you're a true fashionista, this is an absolute must-read. So many creative tips and ideas.
How to Wear Bright Pants The colored pant trend is still going strong. Check out Lauren's top picks and learn how to rock this trend like Lauren.
DIY Chalk Paint Put this on your to-do list. It's a fun and simple way to spruce up your space with an old-school favorite: Chalk!
10 Things to Smile About Lauren shares a bit of her favorite medicine: Laughter. Trust us, you don't want to miss the cats.
10 Awesome Workout Songs  Turn the music up and sweat it out with this awesome exercise mix.
Everyday Accessories Lauren spotlighted 10 of her favorite pieces of flair that can be worn everyday. Take a peek…
Chick Flicks Okay, we are total suckers for this post.
10 Secrets to Smooth Skin Get the inside scoop on Lauren's beauty regime with her simple skincare tips.
Which Tuesday Ten was your favorite? Click here to see all of them!
XO Team LC
You might also like…
Friday Favorites
Ladylike Laws: How to Hold Your Drinks
Fitness Favorite: Fun Summer Workouts
Tuesday Ten: My Chic XO(eco) Picks