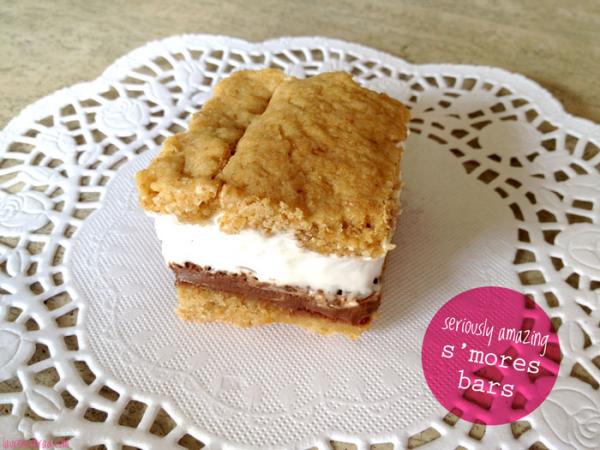 It's National S'more Day! If you are like us, this is hands down the best random national holiday. Forget National Cupcake Day and National Chocolate Chip Cookie Day…to us, there's nothing quite like the melted goodness of gooey chocolate and fluffy marshmallows sandwiched between two crunchy graham crackers. Mmm! Is your mouth watering yet?
To properly observe this holiday we decided to whip up some s'mores. Not just any s'mores… Seriously Amazing S'mores Bars. Just as all of our favorite baking adventures start, we poked around on Pinterest and found a few recipes that we transformed into our very own. Check out the recipe below. Give it a try and let us know what you think!
Ingredients
1 1/4 cups flour
1 cup graham cracker crumbs
1 teaspoon baking powder
1/4 teaspoon salt
1/2 cup unsalted butter, melted
1/2 cup granulated sugar
1/4 cup brown sugar
1 egg
1 teaspoon vanilla extract
2 king size milk chocolate bars
1 1/2 – 2 cups marshmallow fluff
Directions
Preheat oven to 350 degrees.
In a large bowl, cream together butter and sugars until light and fluffy. Add in egg and vanilla.
In a separate bowl, mix together flour, graham cracker crumbs, salt, and baking powder.
Pour butter mixture into the dry ingredients and mix until combined.
Split dough in half and press half of it firmly into the bottom of an squaregreased, glass baking pan (we used an 8×8 inch pan) so it forms an even layer on the bottom of the pan. (Tip: Use the bottom of a measuring cup to press the layer flat and even.)
Layer on the two king size chocolate bars.
Evenly spread marshmallow fluff over the top of the chocolate bars, cover the entire surface–all the way to the sides.
Roll out other half of dough and then place on top of the marshmallow. You'll want it to be one single, smooth layer.
Bake for 25-30 minutes.
Let the bars cool all the way before cutting. We know it's nearly impossible to resist the urge of tasting them ASAP, but trust us…if you let them cool, they will be MUCH easier to cut up.
Happy National S'more Day!
Let us know how you're going to celebrate in the comments below.
Also, what's your favorite s'mores recipe? Share the recipe (or link to the recipe) in the comments!
XO Team LC
You might also like…
Sweet Tooth: Amy's Salted Caramel Chocolate Chip Cookie Bars
Good Eats: Overnight Oats
Lovely Libations: Pink Grapefruit Margarita
Good Eats: Yogurt Kisses