On the fash scale of accessory importance, no piece pulls a higher rank than your purse. Not only is it practical and stocked with all the things that make you tick, but because of its size and location (the center of your outfit), your purse can take your look from bland to cover girl chic instantly. For the past few weeks I've been traveling all over the East Coast, meeting and consulting on a few super exciting Fash Boulevard projects, and while I've been getting a lot done, I haven't spent two consecutive days in the same city since the beginning of July. Just about the only thing that feels like home these days is my purse, which I've stocked with all of my favorite things. A clutch, tote, and shoulder bag are three styles I simply can't live without and below are some of my favorite styles that are available for summer! (For some fun styling ideas, check out my post about my favorite LC Lauren Conrad items that would look fab with any of these bags.)
Crossbody Bags: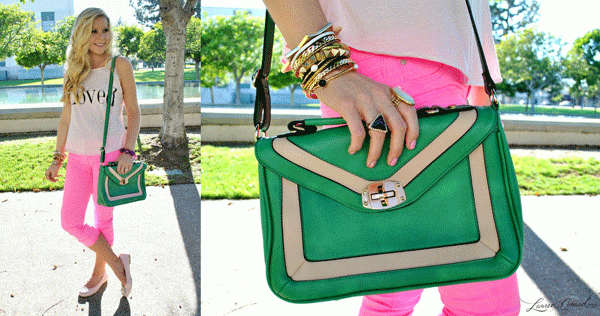 Crossbody bags and satchels are one of my favorite styles for summer. This lightweight, hands free handbag is ideal for busy fashionistas. Due to popular demand, almost every brand is offering fabulous crossbody bags in an array of designs. Don't be shy when it comes to color with these pretty purses. The extra long strap is the perfect excuse to spread a little extra color throughout your ensemble.

1. Orange Satchel
2. Snake Twist Lock Cross Body
3. Leather Satchel
Clutches: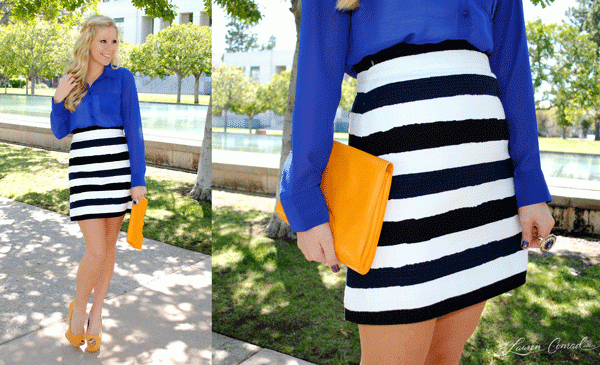 Outfit: Top- Guess, Skirt- Kate Spade, Clutch- Vintage, Heels- Giuseppe Zanotti
When it comes to nights on the town, the "essentials-only clutch" is a no brainer. These bags leave just enough room for your powder, lip gloss, credit card, ID, and cell phone. I recommend stocking your closet with at least one bright clutch that you can use to add a punch of color to your ensembles, along with a classic black clutch to pair with a killer dress.


1. Fold Over Clutch
2. Quilted Clutch
3. Metal Bar Envelope Clutch
Totes: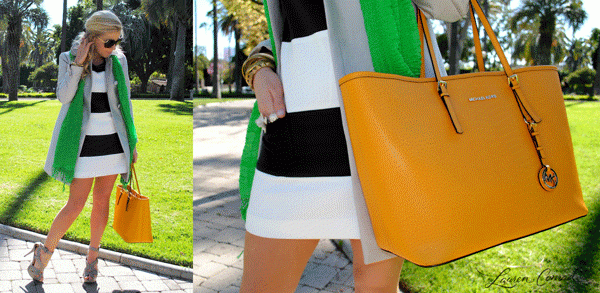 Outfit: Dress- Rachel Zoe, Jacket- Jennifer Lopez for Kohl's Scarf- Macy's Tote- Michael Kors, Shoes- Lylif
Because fitting my entire life into my bag is a personal must, totes and hobo bags are my absolute favorite. If you're like me and feel the need to lug around the latest issues of Glamour and US Weekly, your iPad, and your entire make up bag, then this is the perfect purse for you. Once you have your neutral classic, I always recommend adding a bright tote to your collection. I've found that yellow and orange tend to match with the widest variety of ensembles.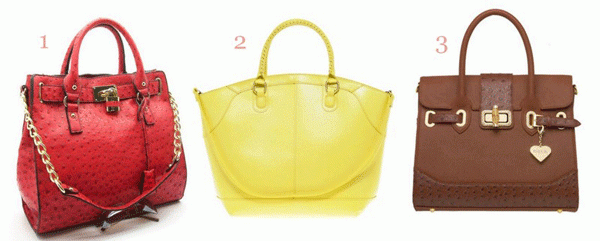 1. Red Handbag
2. Leather Bucket Tote Bag
3. Brooklyn Bag
What is you're favorite style of handbag? Are you going to snag any of these styles?
xoxo
Anna
Fash Boulevard
Ps. To see some of my personal favorite bags from my collection check out my Perfect Purse post and my Random & Beautiful post too. And for more Fash Favs, click here!
You might also like…
Style Guide: First Impressions
How to Wear: Statement Necklaces
Style Guide: Sorority Rush
Currently Craving: Eyelets & Espadrilles