Dressing to impress for an interview can be a simple yet crucial factor in creating a great first impression at your potential workplace. It's not just what you wear, of course, that earns you respect with a future employer. Being prepared, keeping eye contact, and exuding confidence are key tips for securing a job during an interview. (For more tips on the do's and don'ts of interviews, check out my post on interview etiquette.) But there's still something to be said about dressing the part–and doing so in an appropriate, stylish manner. I've always believed that creating a great first impression can open doors and create opportunities you never knew were possible. Today I've put together a Style Guide to help you do just that. Whether you're interviewing for a fall internship or simply embarking on new journeys in your career, putting together the perfect outfit is a necessary ingredient in any recipe for success.
Before deciding what to wear, you need to do a little research about the company you will be meeting with. Typically depending on the field you can make a pretty good guess. Artistic jobs are typically more casual, while positions in areas such as banking require a more buttoned up, professional look. If you're still unsure after your research, err on the side of dressing professional. Appropriateness is also key. Be sure to read up on my Work Wear Commandments to help you know what's acceptable in the workplace and what's not. If in doubt, remember the Three C's: conservative, confident, and classy.
Most companies fall under three different categories of workwear. To help make these divisions a little more black and white, I've put together an exemplary outfit for each of these three categories below…
1. Casual. I know I've said it before, but formal dress doesn't necessarily mean success. Although dressing for an interview in a casual office does not mean you can wear whatever you want, there's also no need to go out and purchase a silk pantsuit either. Simply put your best foot forward in comfortable, conservative work attire. Casual offices tend to be creative environments, so you do have a little bit of freedom to express yourself through your clothes. Just kick it up one notch on the dressy-scale for an interview.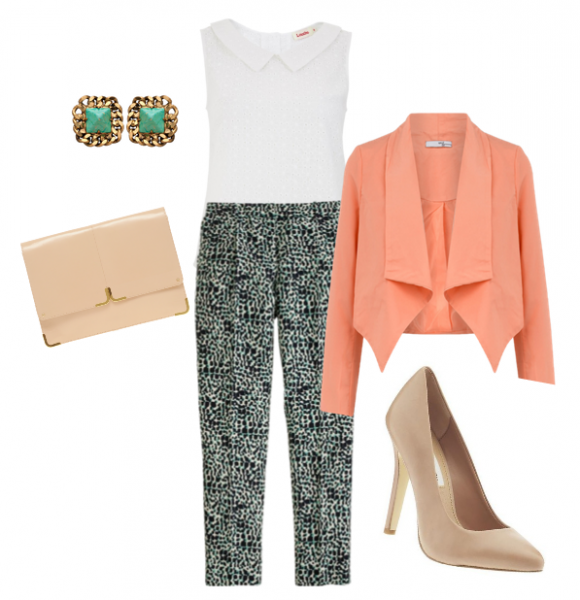 2. Business Casual. This middle-ground category of work attire is the trickiest to dress for, in my opinion. Some basic tips to keep in mind include avoid wearing denim, steer clear of crazy trends, and opt for closed-toe shoes for the interview. In a nutshell, keep your look pretty, polished, with professional touches.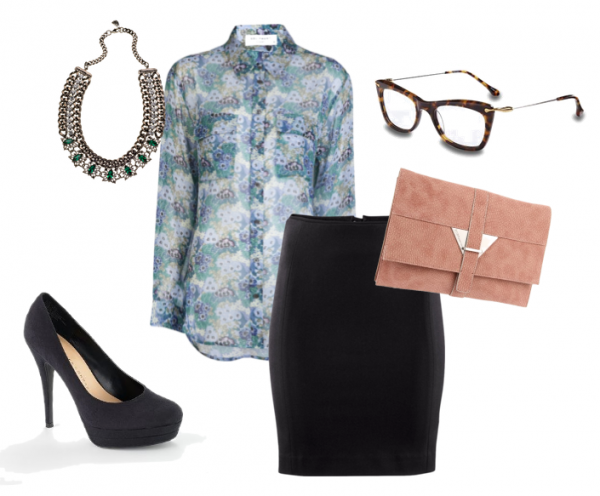 Max & Chloe Yochi Emerald Rhinestone Statement Necklace ($145), EQUIPMENT Signature blouse ($226), Chrystie by Elizabeth and James sunglasses ($215), LC Lauren Conrad Platform Heels, BCBGeneration Julia Clutch ($74.10 – $78.00), H&M Skirt (£12.99)
3. Formal. If you discover that the company you're interviewing for is a buttoned-up, ultra conservative environment, you must follow a professional dress code. This doesn't mean you have to forgo fashion completely. Incorporating classic accessories (like a layered pearl necklace or a neutral, polka dot blouse) can add personality to your formal attire and set you apart from other interviewees. A few simple tips to follow include avoiding flashy colors, getting your items tailored, and keeping your hair and makeup clean and natural.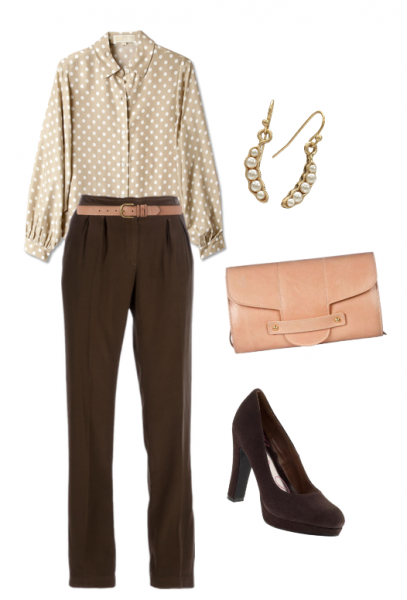 No matter where you're headed, this Style Guide should have you covered. And when in doubt, remember the Three C's.
Good luck everyone!
And be sure to check out my in-depth style guides for casual, business casual and professional dress codes.
Do you have any exciting interviews coming up? What's your go-to interview outfit?
XO Lauren
You might also like…
Fall in Love With… Polka Dots!
Chic Peek: My New Fall Collection
Shopping List: Back to School Basics
Tuesday Ten: Our Favorite Fall Trends