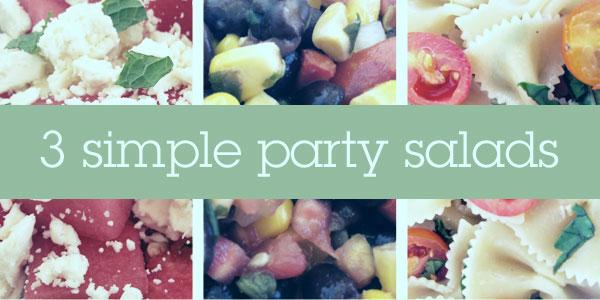 Labor Day is just around the corner so I thought it would be fun to share three of my favorite simple salads to whip up for summer barbeques… Each one can be made in advance and packed up in a reusable container for easy transport. I've made these salads many times and they've proven to be total people pleasers time and time again…
Watermelon Salad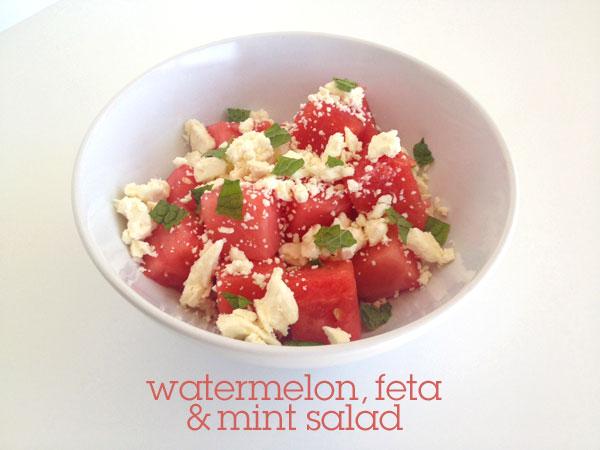 Ingredients
1 watermelon, cubed
1 cup feta, crumbled
fresh mint leaves
Directions
Mix together cubed watermelon, feta and shredded mint leaves.
Chill for 15 minutes.
Serve cold or room temperature.
Black Bean & Corn Salad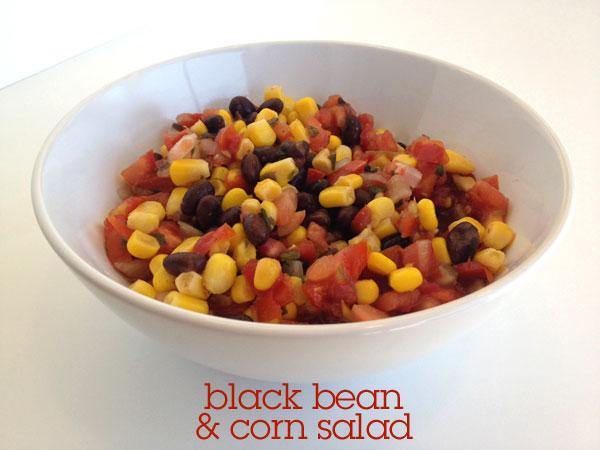 Ingredients
1 can of black beans, strained and rinsed
3 husks of corn
1 cup of fresh pico de gallo
Directions
Preheat oven to 350-degrees.
Peel back husks on corn, remove the stringy bits and then put husks back in place.
Place corn into oven (on center rack) for 30 minutes.
Once corn has cooked, remove husks and cut corn kernels off the cob using a sharp knife.
In a large bowl, mix together corn, black beans and pico de gallo.
Pasta Salad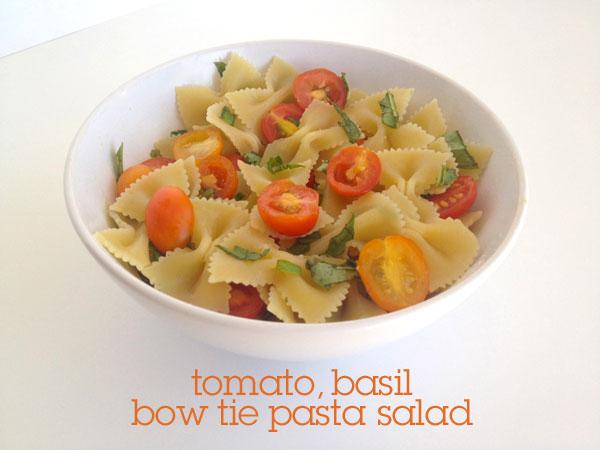 Ingredients
4 cups of bow tie pasta, cooked
2 cloves of garlic, minced
3 cups cherry tomatoes, halved
4 tablespoons of olive oil
fresh basil leaves, thinly sliced
salt and pepper to taste
Directions
In a large bowl, mix together pasta, garlic, tomatoes, olive oil, and basil.
Once mixed, add in salt and pepper to taste.
Serve cold or at room temperature.
And there you have it–three super simple salads that can be whipped up in under an hour.
What are you plans for Labor Day? Will you be enjoying a long weekend?
Also, what's your go-to BBQ salad? Share the recipe below!
XO Lauren
You might also like…
Good Eats: The Perfect Sunday Brunch
Tuesday Ten: Foods for Heavenly Hair
Lovely Libations: Pink Grapefruit Margarita
Odds & Ends: How to Boil an Egg