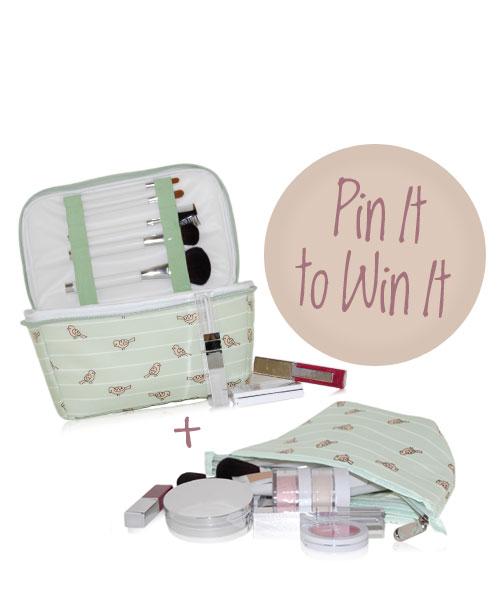 UPDATE: And the winner is Klare Armstrong. Congrats, Klare! Klare's beauty question is, "How to keep your face/foundation from becoming shiny in the summer." My answer: Primer, primer, primer! Also, go easy on the moisturizer. After you've applied your SPF, apply a primer (Makeup Forever makes a great one). Then put your foundation and concealer over the top as you normally would… Finish off your face with a light, translucent powder (if you wear a thick pressed powder, you will get cakey and shiny in no time). I hope that tip helped you!
I am excited to be giving away not one but two of my favorite things from my XO(eco) collection with BlueAvocado–the Brush Box and the Beauty Clutch. Together these items recycle approximately 5 plastic bottles with the Repreve bottle fabric, which is pretty impressive, and they can hold all of your favorite beauty goodies too. Not bad, right? The Beauty Pak is the perfect duo for stowing away all of your cosmetics whether you're on the road or happy at home. I love my Beauty Pak and cannot imagine leaving home without it and I know that whoever wins this giveaway will love it as much as I do.
Do you want to win an XO(eco) Beauty Pak?
Here's how to enter for a chance to win…
Pin. Pin the above image with the following phrase: Pin it to win it. #LCGiveaway
Comment. Leave one comment below with the link to your Pinterest account along with your biggest beauty question. (Note: In order to comment you must be a member. It literally takes 1 minute to sign up.)
Wait. I will announce the winner on Thursday, August 16th!
Good luck everyone!
XO Lauren
P.S. My entire XO(eco) collection by BlueAvocado is available on Amazon.com too! Shop now 🙂
You might also like…
Tuesday Ten: My Chic XO(eco) Picks
My Official Book Tour: Starstruck & Lauren Conrad Beauty
Friday Favorites
Accessory Report: The Handbag Guide