There's no doubt that summer is a time when the easiest and most effortless style staples prevail in our wardrobes. We love how just throwing together a simple outfit with fun accessories instantly achieves a beachy, breezy look during these months. Our recent favorite go-to style necessity comes in the form of a playsuit because we love how one single article of clothing can create an entire outfit. Adding a colorful cardigan and cute sandals only brings a floral playsuit up a notch in our book, and we think Kristen M. did just that! Say hello to our Chic of the Week…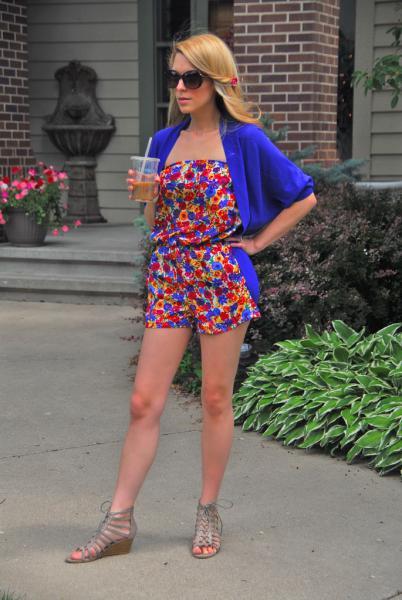 Our favorite new style bug Kristen puts the "play" in playsuit–this Chic clearly isn't afraid to play around with color and patterns! She picked out the blue tones in her floral romper and cleverly topped off her outfit with a cardigan of the same hue. This layering effect is perfect for transitioning your summer playsuit into a fall floral number. And don't think we didn't notice her on-trend gladiator sandals. These elegant taupe shoes keep her colorful outfit looking grounded and sophisticated. Congratulations to our newest Chic, Kristen! For more fashion photos, check out her photo album "Spring Fancy."
What do you think about floral playsuits? Do you have a favorite transitional piece that takes you from summer to fall? Let us know in the comments below, we're always looking for style inspiration!
XO Team LaurenConrad.com
P.S. If you liked Kristen's outfit, then check out our guest blogger Anna's post all about how to wear playsuits!
You might also like…
Chic of the Week: Danika's DIY Dress
Eco Chic: My BlueAvocado Collection
Style Guide: Sorority Rush
Currently Craving: Eyelets & Espadrilles