Here at LaurenConrad.com, we're big fans of the peplum–for visible proof, just take a look at Lauren's Currently Craving post about the trend! Peplums stole the spotlight in spring, made waves this summer, and are on the fall fashion horizon as well. If it were up to us, we'd have peplums stay in style for good because we adore this flirty, flared silhouette. That said, all signs point to Jessica C.'s outfit of the day as a model for true peplum perfection!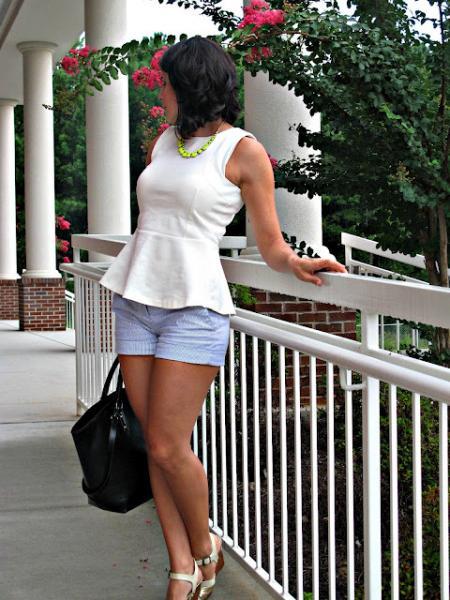 Jessica paired her white peplum top with just the right accessories. Her neon necklace packs a punch in this pastel ensemble and her baby blue seersucker shorts are lovely and ladylike. Her outfit is perfect for a day of running around town because her large black tote looks roomy enough to hold all the necessary belongings. She added white strappy wedges for a final touch, and we love how they match her white peplum top. Jessica, this perfect peplum look struck the right chord with us… Congrats to this Chic of the Week!
Do you have any fabulous outfits you'd love to see featured on the site? Upload your style shots to our gallery and you could be our next Chic!
XO Team LaurenConrad.com
You might also like…
Chic of the Week: Annette's Street Style
Fash Favorites: Designed by Lauren Conrad
Style Guide: The Perfect Date Ensemble
Fall in Love With… Cutouts