We believe that creating an outfit that is on-trend and flattering is a true triumph in the sartorial world, and quite an impressive achievement for the clever fashionista who put it together. For some, incorporating silhouette-slimming style with the constant ebb and flow of trend traffic is a dizzying headache better left alone. But for our favorite new style bug, finding this balance seems to be a challenge worth tackling. StyleAt30…you take this skill to a whole new level, which is why we've picked you to be our Chic of the Week!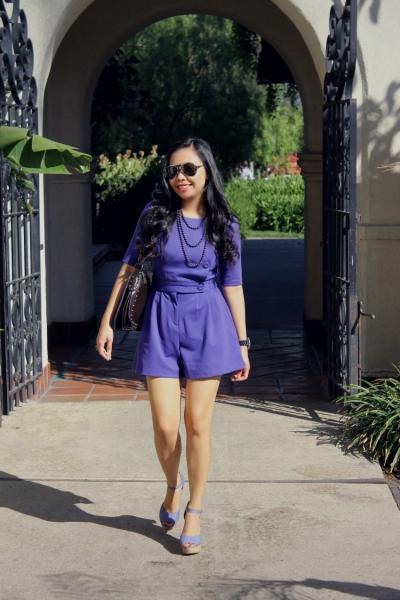 This purple ensemble caught our eye right off the bat for a couple key reasons. First of all, this LaurenConrad.com member is rocking her very own pair of LC Lauren Conrad peep-toe wedges! We love it when our members wear Lauren's line, so this special touch gets extra bonus points in our book. We're also a little obsessed (okay, a lot!) with her monochromatic color palette. In Lauren's recent post about ten ways to slim your silhouette, she highlights "going monochromatic" as a great tip for dressing to flatter your figure. Not only did our Chic wear a top and shorts of the same hue, she made sure her adorable shoes matched as well. StyleAt30, we think your head-to-toe purple outfit is so tres chic! Congrats!
What do you think about going monochromatic? Will you try this head-to-toe trend?
XO Team LaurenConrad.com
You might also like…
Chic Peek: My New Fall Collection
Fash Favorites: Designed by Lauren Conrad
Member Spotlight: Your Pretty Bracelets
Chic of the Week: Jessica's Peplum Perfection